The America's Cup Event Village is one step closer to completion as the last of seven shiploads of granite has been deposited into the South Basin.
The first load of aggregate arrived at the beginning of November 2015 on the MV Balder, a specialised ship that allowed the fill material to be offloaded by conveyer belt into the South Basin.
"This is a monumental project for Bermuda and we are happy to announce that it is on schedule", says Alan Burland, President, BCM McAlpine, the ACBDA Project Managers. "As the last granite deposit has arrived, the next step in the project involves installing sheet piles along perimeter, which will begin early next month."
Rendering of the planned village: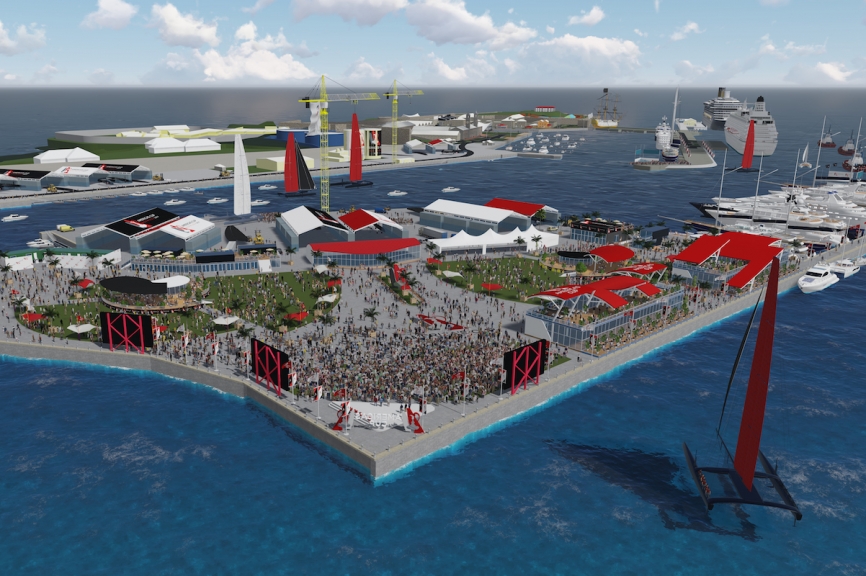 The nine-acre infill will be created with 310,000 cubic yards of aggregate once the land reclamation phase of the project is completed later this year.
Just over half, 165,000 cubic yards of granite came from a quarry in New Brunswick while 145,000 cubic yards is from last year's dredging project to widen the North Channel for to accommodate larger cruise ships in Dockyard.
As the Balder is one of the largest vessels to have ever sailed into the South Basin, the process involved two highly specialized tractor tugs to assist the vessel entering and departing.
Tugs, assisted by staff from the Department of Marine and Ports, also stood by during offloading to help the ship maintain its position. A series of temporary fender piles were driven to allow the ship to berth in the best location for offloading, in the shallowest water possible.
"Bermuda is responsible for delivering a flat surface on which the America's Cup and Teams can build their bases and other facilities required for the 2017 Event Village", says Mike Winfield, CEO, America's Cup Bermuda.
"I am pleased to report that we remain well ahead of our contractual responsibilities for the delivery of the site to the Americas Cup Event Authority, as this marks a significant milestone in our delivery of Bermuda's commitments towards the realization of the Americas Cup in 2017."
He continues: "We are working very closely with representatives of the ACEA to define the details of the AC village, this has and will continue to be a very collaborative and partner focused relationship.
"There are many corporate entities, Government departments, NGO's committees, individuals, contractors and volunteers who are working tirelessly to achieve Bermuda's objective of delivering the AC35 with excellence."
In addition to the South Basin project, a new road down to Morseby Plains in Dockyard is expected to be completed by the end of next month. The road will provide greater access to this area for the America's Cup and other events that utilize the area.
Andrew Dias, General Manager, West End Development Company [WEDCo], says: "In addition to the direct Americas Cup requirements, WEDCo is also continuing to upgrade many of the buildings and infrastructure which will as be used leading up to the event and also the legacy after the event."

Read More About