[Updated] Dockyard was selected as the venue to base the 2017 America's Cup, and a purpose-built event village will be developed, the organisers said today.
Ending months of speculation, the America's Cup Event Authority revealed in a press conference today [Dec 2] that Bermuda has been selected to host the America's Cup in 2017.
Rendering #1 of Dockyard, courtesy of the America's Cup website: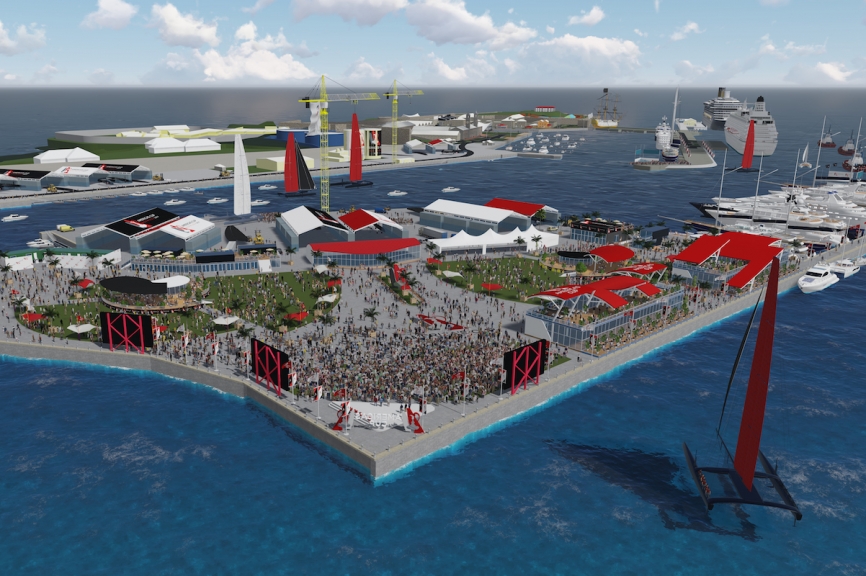 The statement said, "The Royal Naval Dockyard, with its magnificent setting and rich maritime history, was selected as the venue to base the 2017 America's Cup.
"A purpose-built event village will be developed in the South Basin of Dockyard, offering an unparalleled viewing experience, along with infrastructure to support and service the sailing teams and spectators.
"All developments associated with the America's Cup will be designed to be sustainable and in the best long-term interests of Bermuda and Bermudians.
"The work to develop the event village will dovetail with the investments made by Bermuda's government in the restoration and evolution of Dockyard, a publicly owned property."
Six teams have so far taken up the challenge of racing for the next America's Cup, the oldest trophy in international sport.
Update: Gif courtesy of the America's Cup video:
The defending champion is Oracle Team USA, which won the last event with a spectacular comeback over Emirates Team New Zealand, who return as a challenger, along with Artemis Racing from Sweden, Ben Ainslie Racing from England, Luna Rossa Challenge from Italy and Team France.
Racing in Bermuda will be an incredible experience for the spectators, both on-site and for those watching the broadcast, and for the sailors, it's going to be very challenging," said Oracle Team USA skipper, Jimmy Spithill.
"I've raced there several times and the variety of conditions means you can never let your guard down. We'll all need to be at the top of our game to have success and that's how it should be."
In 2017, all teams will compete in their new AC62 catamarans, powered by highly-efficient wingsails and designed to fly above the water on foils at speeds near 50 mph.

Read More About