A new road giving two-way access to Morseby Plain in Dockyard has been completed as part of the ongoing preparations for the America's Cup to hosted by Bermuda in June 2017.
The work was carried out by Dynamic Excavating and Landscaping and Horsefield Landscaping, both local contractors.
Dynamic Excavating and Landscaping cut and prepared the base for the road while Horsefield Landscaping completed the sidewalks and drainage system.
The two companies were selected after submitting a request for proposal and the work took place over a two month period. The Department of Works and Engineering completed the asphalt surfacing for the road.
Eddie Roque, owner of Dynamic Excavating and Landscaping, says: "We were excited to be chosen to complete this project, as it was an important part of the work undertaken in Dockyard.
"The majority of the work was completed by two of my employees, with up to six on certain days. We finished the project on time and I think it went very well."
A photo of the new road and Eddie Roque of Dynamic Excavating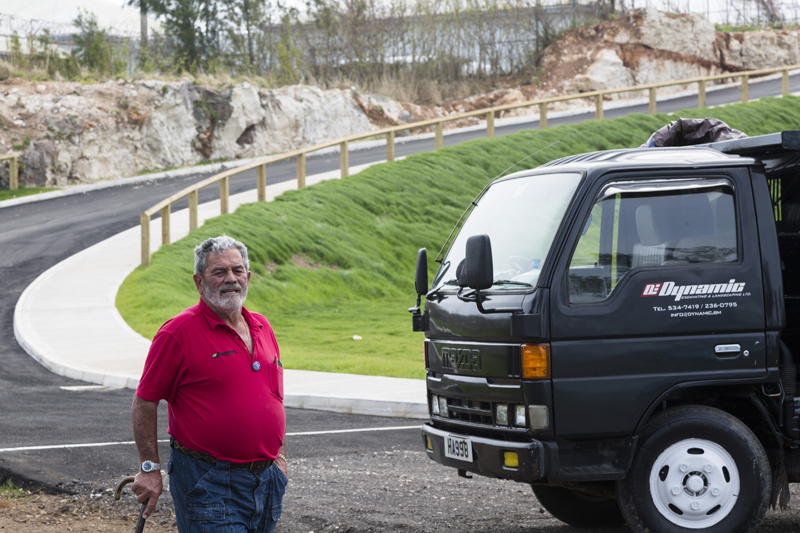 Along with cutting and paving the 300-foot long road, a new turnaround area was created. The road will provide improved and safer access to the field along with opening a number of possible uses of the space for the America's Cup and beyond.
Ireland Island Sports Club currently uses the field for games and the new road will also offer them better access.
Andrew Dias, General Manager, WEDCO, says: "The America's Cup has served as the motivation to complete this project now.
"The new road will remove many of the limitations that have prevented the field from being used for large events in the past. We are thrilled to have completed this project, as it will benefit both the America's Cup and Dockyard."
America's Cup teams will eventually be able to use part of Morseby Plain field for long-term storage for their team bases, which will be located along the docks in the South Basin.
Work on the site for the America's Cup Event Village continues in the South Basin with sheet piles presently being installed to create the outer wall of the infill which will created approximately 9 acres of new land.

Read More About