"I have a time sensitive matter to discuss re Guantanamo detainees and Bermuda," Hillary Clinton appeared to have emailed in June 2009, according to one of her recently released emails. Mrs Clinton directed the email to Cheryl Mills, who served as her chief of staff at that time.
Mrs Clinton — who served as U.S. Secretary of State from 2009 to 2013 and is now running for President — has been in the headlines due to her use of a private server to send and receive emails.
Her lawyers turned over 55,000 pages of emails to the State Department, and the Department has been releasing many of them into the public domain.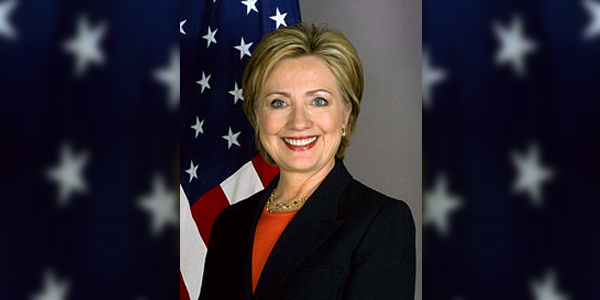 Another email contained in the release, also dated 2009, continues to discuss the Uighur situation, saying, "London appears to have been true to us.
"Local report of the Governor's comments follows: Britain views this as a breach of Section 62 of the Constitution, this was a matter of external affairs, the decision of the Bda Govt was unacceptable.
"The Bermuda Govt should carefully consider their next steps, the men should not and cannot go back to Guantanamo Bay.
"Discussions will ensue between GB, US and the Bermuda Govt in order to arrive at a sensible solution, in looking forward, legal consequences of obtaining British Overseas Citizenship
"Bermuda Police will continue to make their assessment. We are not talking penalisation, we are trying to find a sensible solution."
In 2009, four Uighurs were released from the US detention centre at Guantanamo and resettled in Bermuda, with controversy erupting after they arrived.
They were part of a group of Chinese nationals handed over to American forces in Afghanistan, but were subsequently cleared of  all charges and were not repatriated to China due to fears of their safety upon return.
#1 Hillary Clinton email referencing Bermuda [PDF here]

#2 Hillary Clinton email referencing Bermuda [PDF here]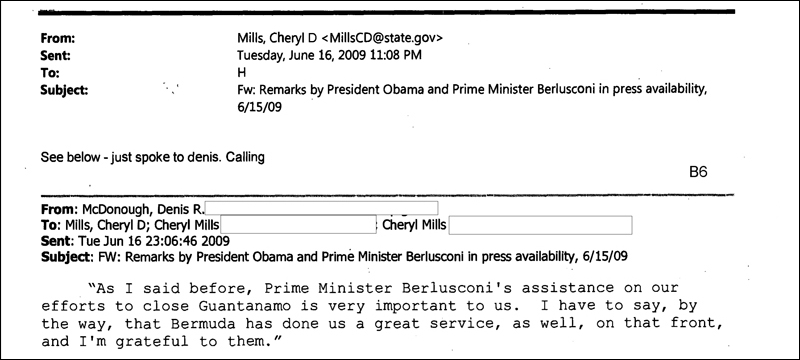 #3 Hillary Clinton email referencing Bermuda [PDF here]

#4 Hillary Clinton email referencing Bermuda [PDF here]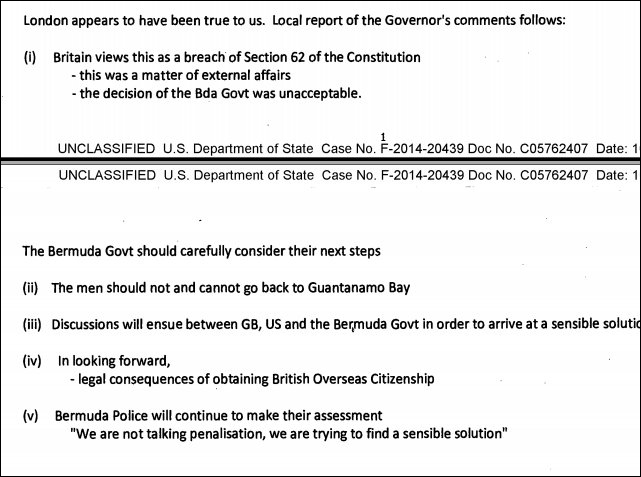 Read More About