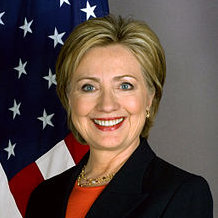 Hillary Clinton has written to Premier Michael Dunkley to thank him for his "thoughtful and heartfelt letter" following the U.S. Presidential election held late last year.
A Government spokesperson said, "The public may recall that on November 9th, 2016, Premier Michael Dunkley wrote to President-Elect Donald Trump to extended well wishes and also sent a letter of appreciation to former Secretary of State Hillary Clinton, in which he commended Mrs. Clinton for conducting a campaign of integrity and civility.
"This month the Premier received a response from Mrs. Clinton in which she thanked Premier Dunkley for his "thoughtful and heartfelt letter."
Mrs. Clinton also said, "I appreciate the generous words you shared for my candidacy and for my career in public service, and am grateful for your support and good wishes."
"While I am disappointed by the results of the election, I am proud of the campaign I ran and will never stop doing my part to build a better, stronger, and fairer future for my country and for our world. Thank you for your continued leadership. You have my best wishes for a bright and peaceful New Year."
In his November letter to Mrs. Clinton, the Premier shared with Mrs. Clinton that her "messages of unity, respect, equality, inclusiveness, hope and optimism were sentiments that resonated here in Bermuda."
And while the election outcome for Mrs. Clinton was a "heartbreaking one", the Premier thanked her for being a compassionate advocate for all people, regardless of the color of their skin, gender, sexual orientation, religious beliefs or country of origin."
He closed the letter by thanking her for her "distinguished service to the people of the United States".
Read More About