The 2016 World Pilot Gig Championships will take place on the Isles of Scilly in England from Friday, April 29 through Sunday, May 1, marking the event's 27th year, with men's and women's racing crews from Bermuda to compete.
A spokesperson said, "The first World Pilot Gig Championship was held in 1990 with only 19 boats from Cornwall and the surrounding islands. The sport grows every year with crews attending from across Europe and the USA. They are especially excited to welcome for the first time ever, a team from Bermuda.
"Bermuda's newly formed men's and ladies' racing crews will compete among the more than 140 other participating crews. The majority of participants come from the South West of England where wooden pilot gigs are still locally built and raced regularly.
"This weekend is unlike any other on the Isles of Scilly and visitors attend from all over the world to experience the fun carnival atmosphere amidst the fierce competition."
British pilot gig rowing coaches Roy Thorne, Sandy Dillon, and Steve Lock in front of the Bermuda Pilot Gig Club's first fleet of pilot gig boats: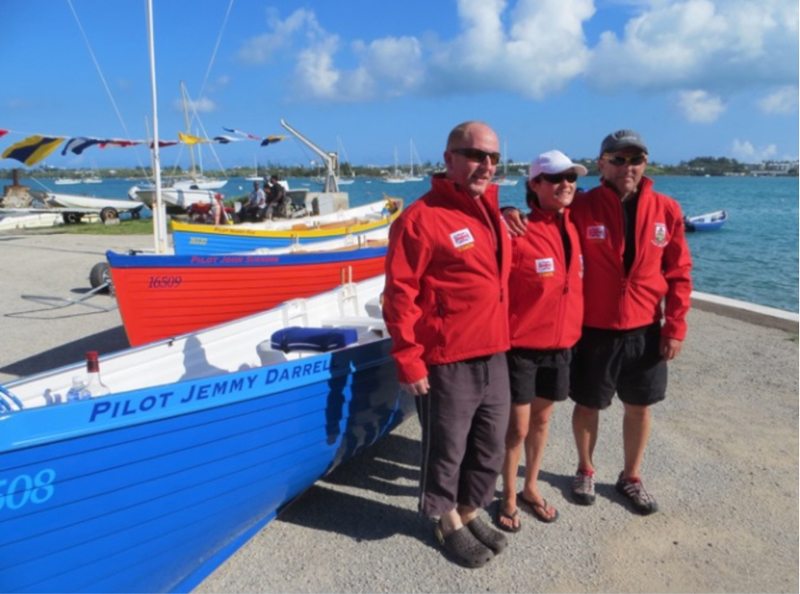 "Bermuda joined the sport of pilot gig rowing very recently. Its first, and only, Pilot Gig Club was inaugurated in June 2015 with three boats that are currently housed at the East End Mini Yacht Club in St. George's. Over the short period of time since the inception of the Bermuda Pilot Gig Club [BPGC], the club members have worked hard to develop three first-class men's and ladies' racing crews capable of representing Bermuda on the world stage.
"Each crew is made up of six rowers supported by a coxswain, who steers the boat, a captain, who motivates the crew, and a coach, who directs the training. The racing crews now have more than two dozen men and women each with their eyes set on the World Championships.
"Each racing crew is committed, enthusiastic and talented. They row several times a week in good weather and in bad. They compete in local regattas, including events leading up to America's Cup. They train hard, on the water and off, suffering through blisters and sore muscles all while they work to master this new sport. They put their hearts and souls into their rowing for the pride of Bermuda.
Gig boat Pilot Harry Fox coxed by BPGC board member, Roger Gillet, competing in the November 2015 Fall Local Regatta: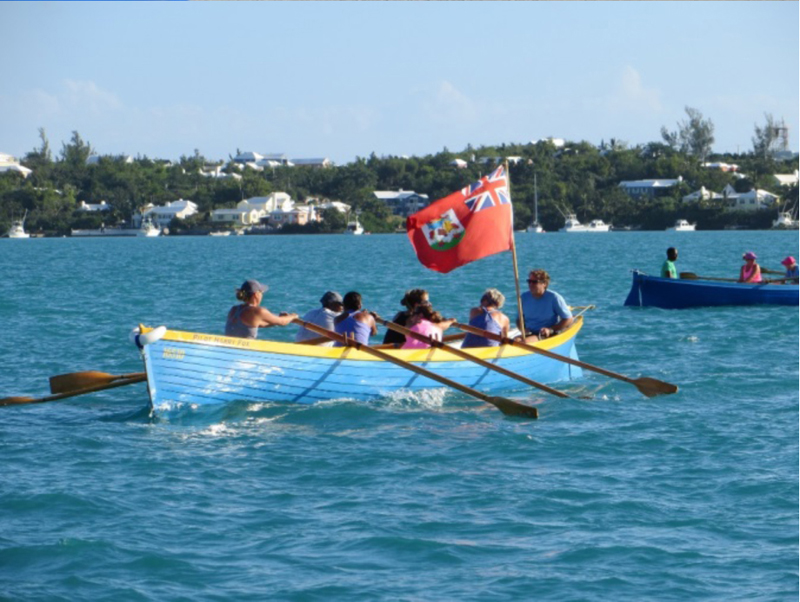 "Their journey would not be possible without all of the immense support provided by their club members and local sponsors. Four local sponsors that have graciously supported this maiden voyage include Bermuda Security Group, PW Marine, C.N.A. Butterfield Insurance and Clearwater Systems.
"The international travel and accommodation corporation, Karma Group, has also supported the teams by facilitating their stay at the Karma St. Martin luxury hotel in the Isles of Scilly."
Gig boat Pilot Jack Simmons pulling away from the BPGC's St. George's location, the East End Mini Yacht Club: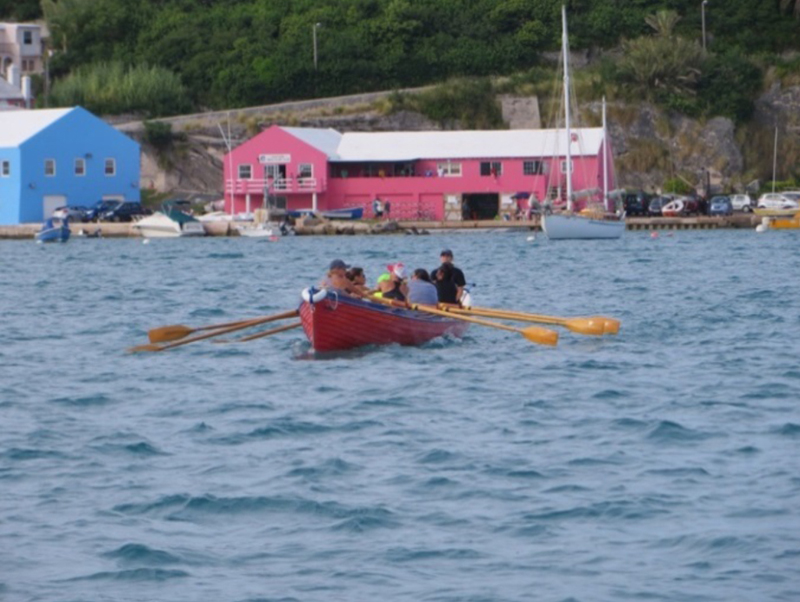 "Several other entities have also supported these teams by providing initial funding to bring the club's first fleet of pilot gig boats to Bermuda. These entities include the Bermuda Tourism Authority, Bermuda Diabetes Association, Argus, Colonial and a number of other corporate sponsors.
"The racing teams also share a heartfelt thank you to their fellow club members. Above all, their journey would not have been possible without their men's captain, Shervon De Leon, their ladies' captain, Susannah Cole, and their invaluable supporter and coach, Steve 'Locky' Lock."
To learn more about pilot gig rowing in Bermuda, or to support the BPGC's journey to compete in the World Championships, contact them at info@bermudapilotgigclub.com or by telephone on 707-1044, or visit their website.

Read More About