The island celebrating the Good Friday and Easter holidays, Saltus hosting one of the world's largest St. Baldrick's fundraisers, Tokio Millennium Re continuing their sponsorship of Tyler Butterfield, the Bermuda football team defeating French Guiana 2-1, and 14-year-old Bermudian Camille Carlington being selected to perform at Carnegie Hall were all some of the positive news stories from the past week.
In other good news, Digicel renewed its sponsorship of Micah Franklin, the Bank of Butterfield donated  tothe 2016 Ag Show and was named Global Finance's best bank in Bermuda, elite Olympic swimmers are set to train on the island, Warwick Academy student Michael Schrah was the grand prize winner of the BELCO Bird Kite Safety Poster Competition and Sakari Famous won a Carifta medal.
Additional good news stories included Christie Hunter Arscott being published in the Harvard Business Review, the 'Crown & Anchor' shop opening in Dockyard, Argus donating $2,500 to Kaleidoscope Arts, and plans for Oracle Team USA to mentor Team BDA in preparation for the Red Bull Youth America's Cup.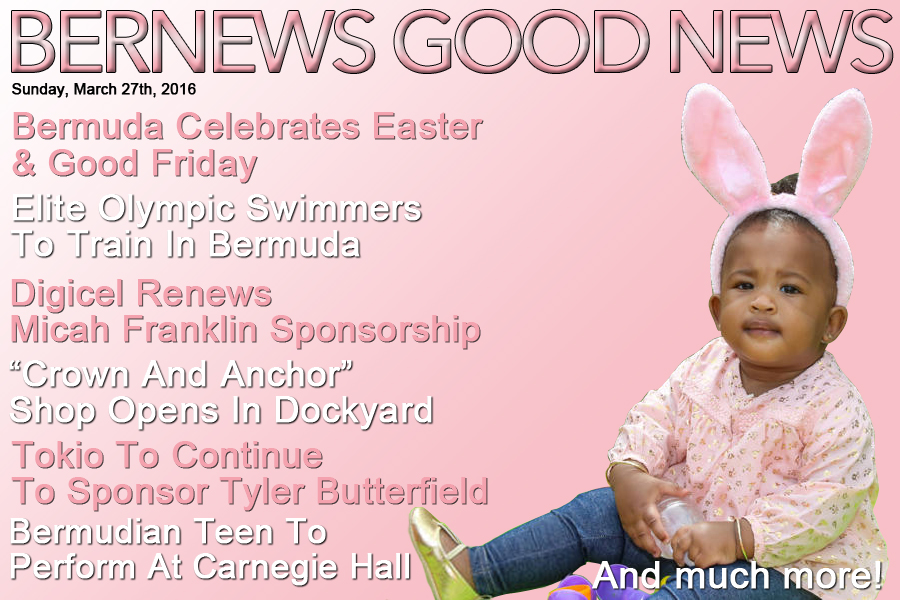 We also posted various community photo galleries, including kite-making at the Salvation Army, KPMG Round the Grounds races, Startup Weekend, Tucker's Point Tennis Championships, Warwick Academy students going bald for charity, the Ocean Vet TV series premiere event, hockey, the Easter Egg hunt in St George's, and Good Friday celebrations in St David's, Horseshoe Bay, Naval Field and PHC Field.
In an effort to highlight some of positive news happening in our community, we supplement our standard morning and evening email newsletters with a special Sunday "Good News" email newsletter edition, which strictly focuses on the positive news from the past week.
You can sign up to have the free newsletter delivered via email here, and/or access the links below. In addition, for those who like positive news, please feel free to visit our sister site ForeverBermuda.com, which seeks to showcase the best of Bermuda as well as provide information and listings for visitor related services.
Links to some of the 'good news' from the past week are below:
Read More About