St. David's County Cricket Club is getting set to host the annual Gilbert Lamb Fun Day on Good Friday, with music and activities planned throughout the day.
The event will take place from 11.00am to 6.00pm at the St.David's Lords Field, with music by Brother Richie and Jugglin Jason.
Activities will include on field races/challenges for all ages, an inflatable track and race cars [$2 per lap], a video game zone including PS3, Xbox 360 and Nintendo Wii [$5 per person per game], and ping pong tables [$5 per 30 minutes], with an all day pass available for $20.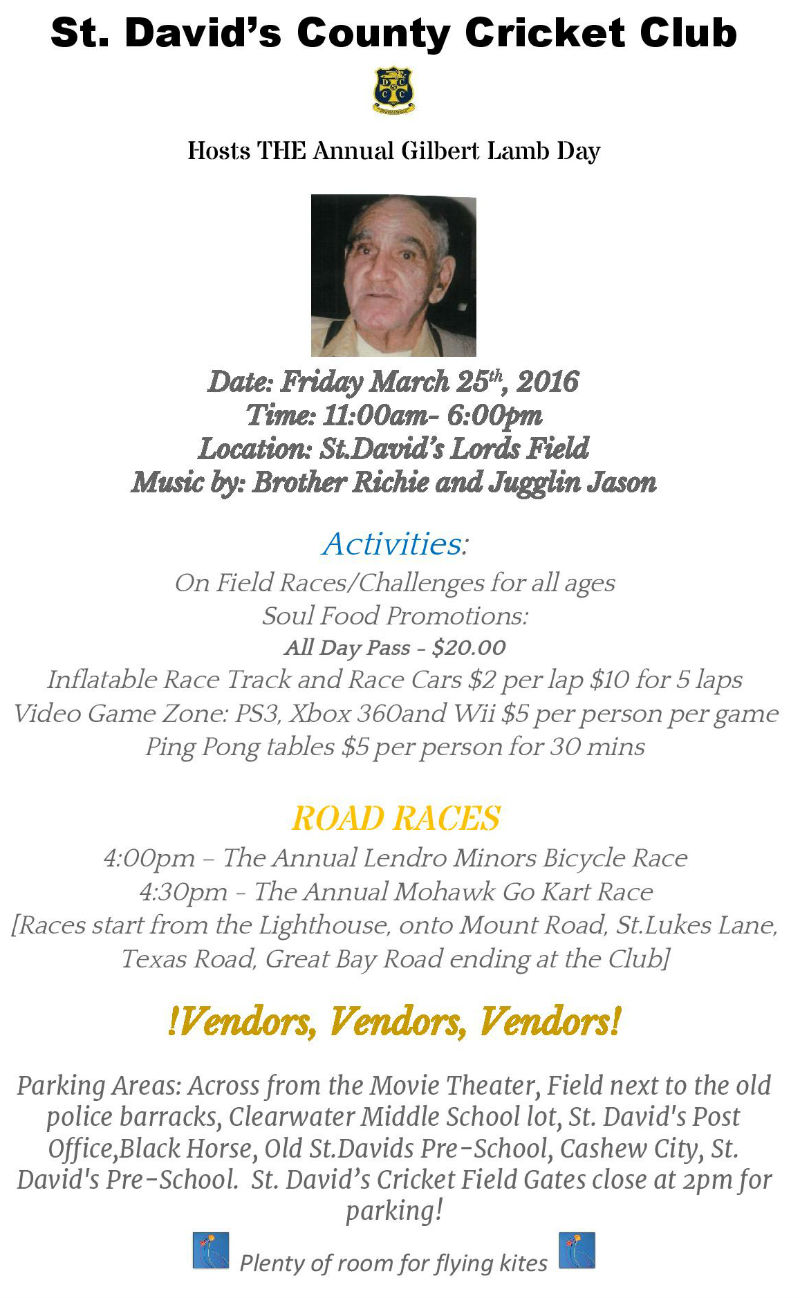 The day's races will include the annual Lendro Minors Bicycle Race at 4.00pm and the annual Mohawk Go Kart Race at 4.30pm, with both events starting from the Lighthouse, onto Mount Road, ontp St. Lukes Lane, to Texas Road, then Great Bay Road, and ending at the Club.
Road closures from 3.30pm to 4.30pm will include no access along Great Bay Road from the junction with Lighthouse Road [walk from the Race Course to the Club]; Lighthouse Road and Mount Road; St. Luke's Lane and Texas Road, Junction with Texas Road and Orange Hole Road; Great Bay Road junction with St. David's Battery Road – Residents access only after 4.45pm. Note also there is no parking on the above mentioned roads
The day's bus schedule follows below:
Route 6 St. David's to St George's
Leaves St. George's: 8:15am, 9:15am
Leaves St. David's: 8:40, 10:40 [From Cashew City Road]
Leaves St. George's: 10:15, 11:15, 12:15 and 1:15
Leaves St. David's: 10:40, 11:40, 1:40 and 2:40
From junction of Lighthouse Road and Texas Road
Leaves St. George's: 2:15, 3:15, 4:15, 4:15
Leaves St. David's: 2:40, 3:40, 4:40 and 5:40
Last bus of the day from St. David's: 6:40
Buses leave from Clearwater Middle School on Pepper Hall Road
All buses leaving St. David's connects with all buses from St. George's going to Hamilton
Transportation for the day will include a Special Good Friday Shuttle Bus costing $5 per ride; East End Minibus will be running a special Good Friday Shuttle from 9.00am to 7.00pm. The bus stops are Ordinance Island, St. David's No. 1 Gate, St. David's County Cricket Club, and Gombey's Clearwater, with a bus coming around every thirty minutes.
On the day, call 777-8541 or simply wait at the stops to be picked up.
Read More About
Category: All, Entertainment