For the first time since November 2014, the Bermuda Monetary Authority has hosted meetings of the International Association of Insurance Supervisors [IAIS] in Bermuda.
The three IAIS groups which met at the Authority were: the Index-Based Insurance Drafting Group, cochaired by the IAIS and the World Bank, on 8th – 10th March; the Macroprudential Surveillance and Reinsurance Expert Team on 1st and 2nd March; and the Macroprudential Policy and Surveillance Working Group on 17th and 18th February.
From left: Dr Marcelo Ramella, the Authority's Deputy Director, Policy & Research, Craig Thorburn, Lead Insurance Specialist – World Bank, Peter van den Broeke, Member of the Secretariat – IAIS, Joseph Owuor, Insurance Supervision Officer – Insurance Regulatory Authority [Keny], and Gina Smith, the Authority's Assistant Director – Actuarial Services, Property & Casualty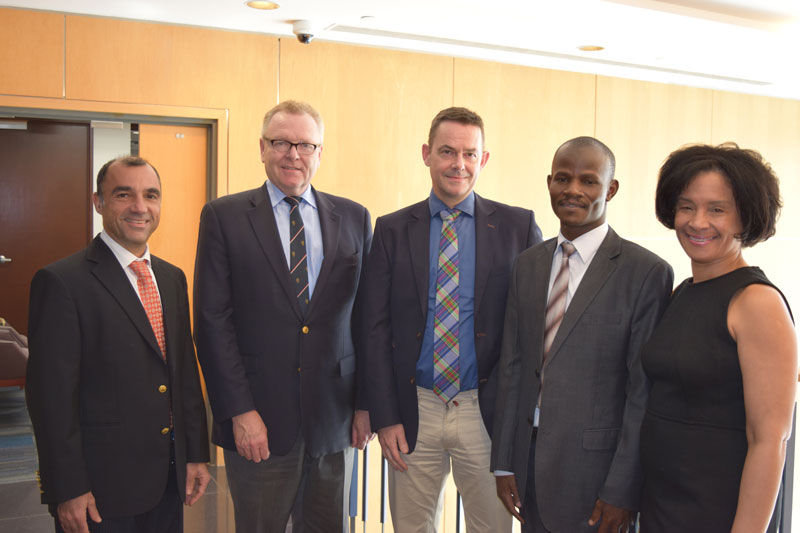 Marcelo Ramella, the Authority's Deputy Director, Policy & Research and representative to the three working groups meeting in Bermuda, said "The Authority participates in numerous IAIS working group meetings around the world but is very pleased to have once again hosted the events here in Bermuda.
"Taking part in IAIS meetings enables us to further strengthen relationships with insurance supervisors from other countries. It is vitally important that Bermuda actively participates in the development of global standards and having this type of meeting take place in Bermuda, as opposed to elsewhere in the world, brings a qualitatively different dimension to the Authority's role in global insurance supervision".
Read More About