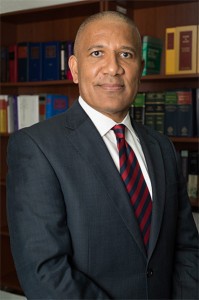 Governor George Fergusson has announced the appointment of Mr Larry Mussenden as Director of Public Prosecutions in succession to Mr Rory Field.
In making the appointment, Mr Fergusson has accepted the recommendation of the Judicial and Legal Services Committee.
Mr Fergusson has said: "I am very pleased to make this appointment. Mr Mussenden will bring to this important role long experience of the law, from the perspective of a defence counsel as well as a prosecutor and in private practice as well as in Government service.
"I wish him well in this often challenging role and have every confidence that he will make an excellent DPP," the Governor added.
Rory Field was first appointed as Director of Public Prosecutions of Bermuda in 2007, and his subsequent reappointments caused some controversy.
Opposition MP and lawyer Michael Scott previously said, "The reappointment of Rory Field is a slap in the face to not just the qualified, capable Bermudians who have been overlooked, but to everyone who believes that Bermudians should come first in jobs and opportunities in our own country.
"To simply roll over Mr. Field's work permit while qualified Bermudians are left in the cold is an insult to Bermudians and yet another confirmation that our country is headed in the wrong direction."
After Mr Field's last re-appointment in January 2015, a Cabinet Office spokesperson said, "Naturally, the Premier is disappointed that a suitably qualified Bermudian has not been appointed.
"After expressing every intention to appoint a Bermudian DPP in 2007, 2010 and 2013, it is most unfortunate that the process adopted by Government House appears unable to make those intentions a reality."
Mr Mussenden took degrees at universities in Canada and the US, before earning a law degree at the University of Kent at Canterbury and studying at the Inns of Court School of Law in London.
He was admitted as a barrister in England and Wales in 1995 and in Bermuda the following year. Mr. Mussenden served as a Crown Counsel in the Attorney-General's Chambers in 1996 and then as a prosecutor in the Office of the Department of Public Prosecutions. He has also served as an Acting Magistrate in criminal matters.
More recently he has worked in private practice, specialising in criminal and civil litigation matters. Mr. Mussenden also specialised for several years in insolvency, public law and commercial litigation.
Mr. Mussenden was appointed the Attorney General and Minister of Justice of Bermuda and Government Senate Leader in January 2004, having being appointed a Senator in 2003.
Mr. Mussenden served in these capacities until October 2006. As Attorney-General, Senator Mussenden was the Chief Legal Advisor to the Government of Bermuda. During that time, he set up the Justice System Review Committee and oversaw the implementation of its recommendations.
Mr. Mussenden served as the President of the Bermuda Football Association from 2001 – 2008 and is currently serving a second term since 2010. He serves as the Chairman of the FIFA Appeals Committee and regularly hears appeals from countries around the world on all matters of football.
Mr. Mussenden retired from the Bermuda Regiment in 2003 as a Major after serving for some 16 years. He has also served on a number of Government Boards.
Read More About