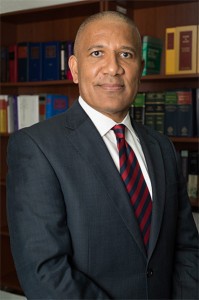 [Updated with video] Bermuda Football President Larry Mussenden has just confirmed that he plans to run for CONCACAF President.
CONCACAF — the Confederation of North, Central America and Caribbean Association Football — is the governing body of football for the Caribbean and Central American region, covering a number of nations and islands including Bermuda.
This follow after acting CONCACAF President Alfredo Hawit was arrested last month as part of the probe into FIFA by international law enforcement entities.
According an official statement from Switzerland's Federal Office of Justice, Mr Hawit has agreed to be extradited to the USA.
The Swiss authorities said, "The US Attorney's Office for the Eastern District of New York accuses him of accepting bribes totalling millions of dollars in connection with the sale to various sports marketing firms of marketing rights to football tournaments in Latin America."
Following his arrest, CONCACAF said their Executive Committee voted unanimously to not appoint a new President of CONCACAF, saying that "in light of current events it is critical that the Confederation's next President be determined by a public election and the scrutiny that comes with it."
Mr Mussenden presently serves as the Chairman of the FIFA Appeals Committee, and is a former Attorney General and Senator.
His bio on the Mussenden Subair law firm website says, "Mr. Mussenden served as a Crown Counsel in the Attorney-General's Chambers in 1996 and then as a prosecutor in the Office of the Department of Public Prosecutions where he prosecuted cases in all the Courts of Bermuda on a regular basis. He has also served as an Acting Magistrate in criminal matters.
"Mr. Mussenden was appointed the Attorney General and Minister of Justice of Bermuda and Government Senate Leader in January 2004 having being appointed a Senator in 2003. Mr. Mussenden served in these capacities until October 2006.
"Mr. Mussenden retired from the Bermuda Regiment in 2003 as a Major having reached the appointment of Second-In-Command after serving for some 16 years. He was appointed the Efficiency Decoration [ED] for long service and the Queen's Jubilee Medal."
Update: 16-minute replay of live stream:
The CONCACAF member associations include Canada, Mexico, United States, Belize, Costa Rica, El Salvador, Guatemala, Honduras, Nicaragua, Panama, Anguilla, Antigua & Barbuda, Aruba, Bahamas, Barbados Bermuda, Bonaire, British Virgin Islands, Cayman Islands, Cuba, Curaça, Dominica, Dominican Republic, French Guiana, Grenada, Guadeloupe, Guyana, Haiti, Jamaica Martinique, Montserrat, Puerto Rico, Saint Kitts & Nevis, Saint Lucia, Saint-Martin, Saint Vincent & Grenadines, Sint Maarten, Suriname, Trinidad & Tobago, Turks & Caicos and the U.S. Virgin Islands.
Mr Musseden's press conference has just concluded, and we will update with the text and video of his statement as able.

Read More About