The Bermuda Economic Development Corporation [BEDC] has announced that this season's Harbour Nights will be extended to Court Street with the new Uptown Harbour Nights community event, operating from Wednesday, June 15 to Wednesday, August 31.
The BEDC will be hosting two Lunchtime Information Sessions for interested vendors on Wednesday, March 16 and Wednesday, March 23 at 12.00pm at its main office at 48 Church Street in Hamilton.
A spokesperson said, "BEDC has been working with businesses, residents, and community stakeholders in North East Hamilton for years in a collective effort to rejuvenate this culturally and historically rich and diverse corner of the City of Hamilton.
"The designation of North East Hamilton as an Economic Empowerment Zone in 2007 is just one result of the hard work and progress that has taken place by the stakeholders in the community.
"Uptown Harbour Nights presents a prime opportunity for Vendors to showcase their wares and delicious food items during one of Bermuda's most known weeknight activities – Harbour Nights. On this singular day of the week, many businesses get an economic boost from visiting tourists and locals alike."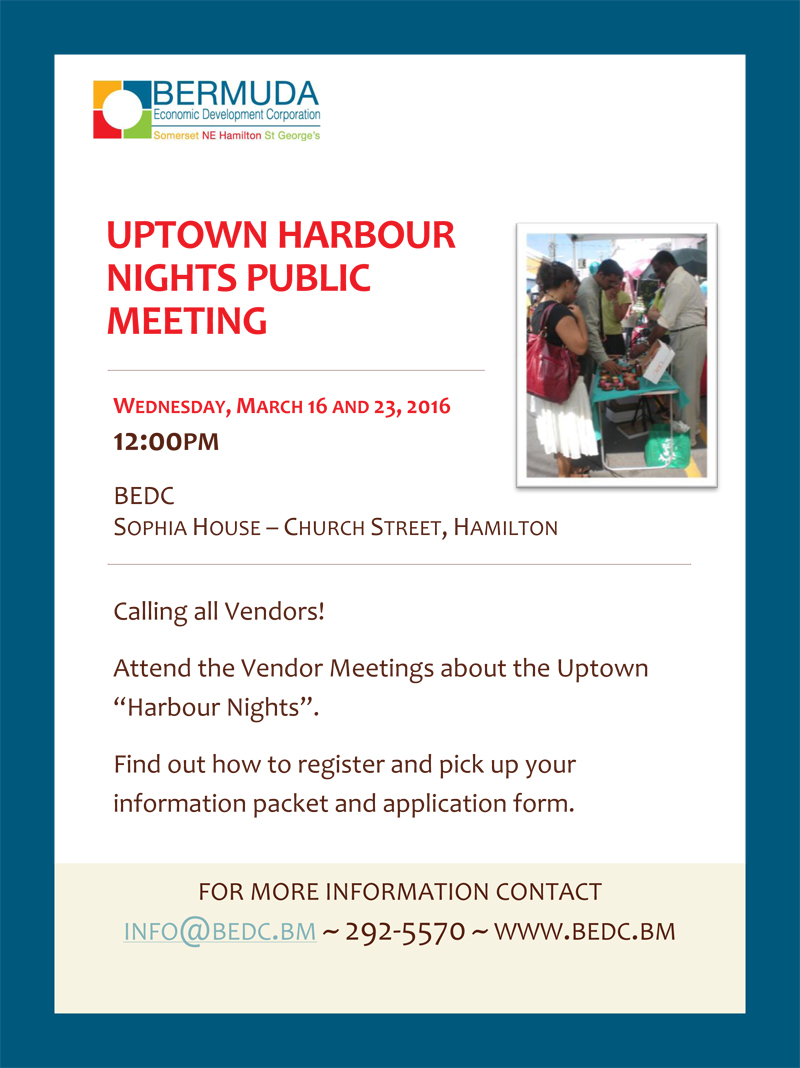 "BEDC is pleased to be partnering with the Chamber of Commerce to ensure that N.E. Hamilton business owners and residents also share in the additional revenues that can be generated during Harbour Nights."
Executive Director of the Chamber of Commerce, Kendaree Burgess said, "We are delighted to be partnering with BEDC on this program as we committed to supporting the retail community and micro entrepreneurs whom showcase the best of what Bermuda has to offer."
Economic Development Officer for N.E. Hamilton, Roxanne Christopher said, "This is an exciting time for NE Hamilton. Working with our Vendors, BEDC is committed to ensuring the success of Uptown Harbour Nights.
"We are ready to produce a stellar series of events in North Hamilton relying on the dynamic cultural appeal of Court Street which is a great conduit for increased business activity."
To register, email info@bedc.bm or call 292-5570. Further information can be found on the BEDC website.

Read More About