Bermuda's spectacular shoreline will play a starring role in the United Kingdom's Shakespeare 400th anniversary celebrations this weekend in Liverpool and on London's South Bank.
The Bermuda Tourism Authority [BTA] has partnered with the Shakespeare's Globe to mark the anniversary of the playwright's death 400 years ago.
The highlight of the BTA partnership is the screening of a new short film of The Tempest shot on location in Bermuda earlier this year.
The final product will debut during a huge free event on April 23rd and 24th known as The Complete Walk. In all, 37 short films of William Shakespeare's plays will be screened.
Actor Douglas Hodge on location in St. George's with film crew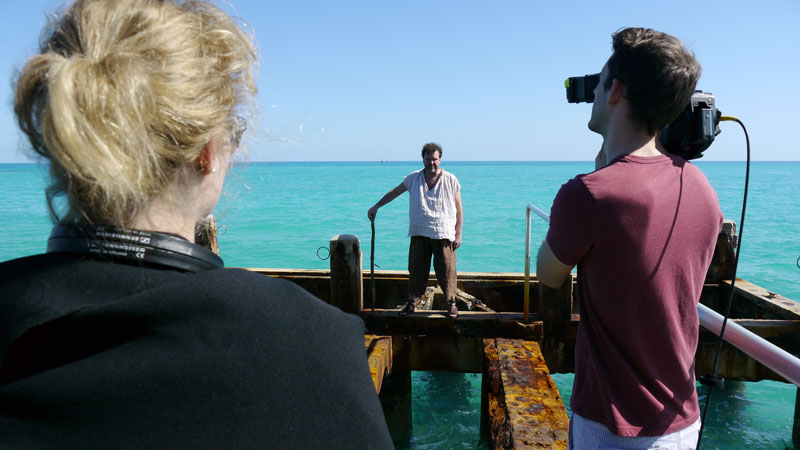 The BTA said, "With the assistance of the BTA, The Tempest was filmed in several locations on the Island including Southlands, Tobacco Bay, Gates Bay and St. Catherine's Beach, the very beach where the Sea Venture survivors came ashore more than 400 years ago.
"Shakespeare fans can see the screening at Potter's Field in London, where Tower Bridge is the backdrop. More than 100,000 people are expected in the area as the
"Shakespeare celebration and the London marathon will be happening simultaneously. Meantime, Liverpool is the other city in the UK showing the short films.
"British Actor Douglas Hodge stars in the Bermuda-inspired piece on The Tempest.
"The Tempest, Shakespeare's final play, was inspired by the escapades of the Sea Venture's crew, whose ship wrecked on the reefs around Bermuda in 1609. The survivors made Bermuda their home and went on to form the oldest British colony."
Read More About
Category: All, Entertainment, History, News