Titan Express and Shuntelle Paynter of 'A Journey To Telle' will be offering the "Sea Freedom Land" tour on December 12th and January 16th.
A spokesperson said, "With the world at a standstill due to the Covid-19 pandemic, Shuntelle Paynter of 'A Journey To Telle' has decided to operate from a solution-focused standpoint and provide a limited travel solution through local experiences in Bermuda.
"These experiences aim to challenge the participant to do something out of their comfort zone, support local businesses, all while on a budget, while creating affordable local experiences as the goal.
"Our signature experience is, 'A Land To Sea' experience which incorporates e-biking throughout the east end exploring hidden gems. This experience was curated in August 2020 & is still going strong today. Hence we are collaborating with Titan Express to offer the "Sea Freedom Land" experience.
"This 3-hour experience offers a one-hour scenic historical African Diaspora walking tour with Titan Express in the town of St. George, and then continue with 'A Journey to Telle' on a 2-hour e-bike exploration from St. George's to Blue Hole Hill park and return.
"This is a physically active experience. Therefore expect to walk, hike, and e-bike, and dress comfortably and bring a bottle of water. All required Covid-19 guidelines will be followed.
"Dates & Times offered: Saturdays, Dec 12th & Jan 16th at 12:30PM – 3:30PM and the exchange is $99 per person.
"Tickets can be purchased on the Titan Express website at Sea Freedom Land Experience – Titan Express [titantoursbermuda.com] and for more information email info@titantoursbermuda.com or call 234-1096."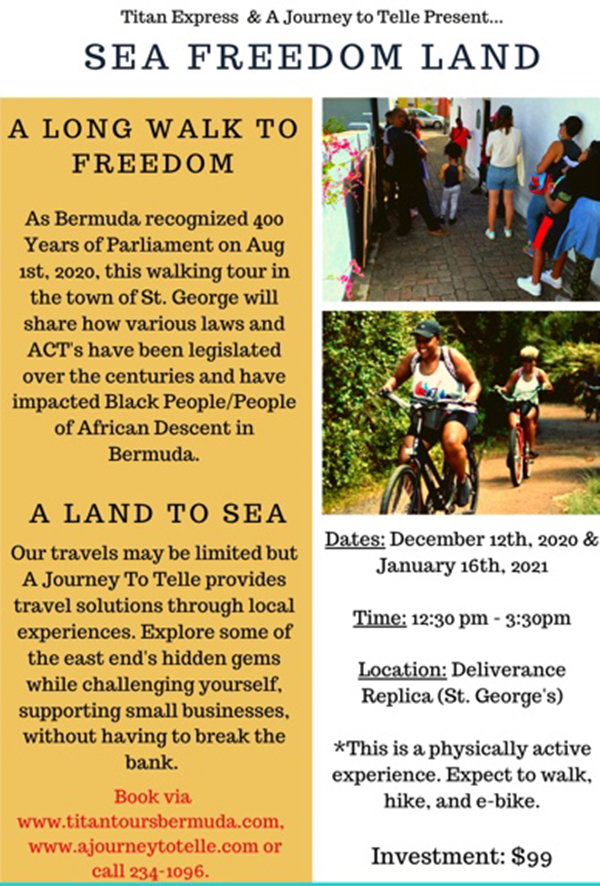 Read More About
Category: All, Entertainment, History