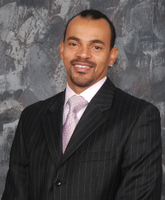 The Baltimore Blast — which Bermudian David Bascome serves as the Assisant Coach for — will be seeking their 8th Championship in franchise history when they travel to Mexico to take on Soles De Sonora for the MASL Championship series. The Blast has participated in the last six consecutive Championship Series.
Baltimore Blast Head Coach Danny Kelly will be seeking his 7th Championship with the Blast as a Player/Coach, while Blast Assistant Coach David Bascome will be seeking his 6th Championship with the Blast as Player/Coach.
Below is a Q&A with Blast Assistant Coach David Bascome.
This is the sixth consecutive championship series the Baltimore Blast has participated in. In your mind what are the most important qualities of your team that has allowed you to be so consistent?
The biggest qualities of the team and our success are trust and players buying into our methodology of our coaching. It has been important that players understand what it takes for on field Success and why the Blast has been able to attract and hold onto good players. The curriculum here is designed to allow players to play to their full potential with a ground platform supports consistency in the teams play.
In what ways do you think your young team has grown during the season?
The team has grown in many ways with one being the team's veterans taking on the younger players and helping them with the game, this has made the team stronger on and off the field. Our team has had its ups and down and this has developed a great character with the group.
We have seen players develop the game in a short time and have shown their maturity on the field. Each player has grown to understand how their abilities fit in with the group, they understand what part they play and how they contribute to the overall success of the club.
What is it about the relationship between you and Danny Kelly that makes you so successful?
This relationship has been one that we have had together as players and now as coaches. We started together at the Harrisburg Heat 25 years ago and have been through the battles on and off the field. We share a great respect for the game and respect each other's voice.
We understand what it takes for success and have been able to bring it to the team. We are both competitive and have a low tolerance for half-heartedness when it comes to players and team success.
We set a high standard for the players and make each one of them accountable for their performance. As an assistant coach with the team Danny has made it a point that I have a voice and made sure the players understand this.
I feel this relationship also works well because I am not looking to be a head coach. With everything I do outside the game with my company the position I have with the team works well because being a head coach requires much more time and one I cannot commit too.
Describe the intensity of playing in a championship series. How much sense of urgency do you feel when it comes down to the final series?
The intensity is high and every mistake becomes magnified and could cost the game or championship. Think about walking across a tight rope 200 feet above ground with support cables. Now try it again with no support cables and a little wind and rain. We all know that one slip and it could be all over.
Things have to be much sharper, you need to be more aware and have more attention to details. Your focus has to now change. You have to complete the task with as few mistakes as possible and thinking about the reward after the pain. This is what we will face Friday Night in Mexico for the final Championship game.
If we asked you to list the most important things to being successful what would you include in the list?
1. Do not just dream but be able to grind
2. Never empower the problems
3. Prepare and be willing to feel some pain
4. Realize why you deserve it more than the next person
5. Believe
6. Accept change and be accountable
You have been involved in so many championships as a player/coach what are some of your best memories of playing/coaching in championship series?
Some of the best memories came in the first year winning and what it meant to me in 2003 with the blast. I could recall the final whistle going off and my insides exploding with a sigh of relief that I finally completed the task. All that I went through in life was worth the wait, that first championship win I sat in the middle of the field and cried tears of joy, tears of relief and tears of accomplishment.
The next four championships after have a special place in my heart and are memories I would never forget. We are heading to another championship final and winning this one will mean winning my 6th and mean a lot more than one may imagine.
Who did you look up to growing up, and who were some of the most influential people that you feel are the keys to why you have been so successful?
My grandmother and father were most influential in my life, I have been connected to many people from great athletes, close friends, family members and coaches that have guided me along the way and have supported my success. When it comes to my father and grandmother there is a special place for them.
What things do you take from your championship experience and use when you are teaching young kids at your camps?
I take the experience of the battle and what it takes to grind for your dream. I make sure I stay focus on giving them tools for their own success and make sure they understand what it means to complete a task. I share my passion and love of the game and teach them how they could bring out their full potential
What do you think the biggest challenges are for kids growing up today in trying to be successful?
The biggest challenge is them not understanding the importance of education and how it is a platform for their success. The other challenge they face is entitlement, some feel they should be paid first and then they show you their worth later.
Our young people have so much talent and they need to be able to handle the hard work that comes with being successful. They have to be able to manage their time and commit to being a winner.
What motivates you to want to continue coaching and teaching kids at your camps?
My legacy.
Read More About