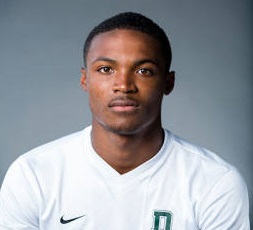 Dartmouth College has highlighted Bermudian Justin Donawa, who plays for the men's soccer team and is also a triple jumper for the track and field team.
The story on the College's website said "Justin Donawa '19 began his collegiate athletic career with a bang.
"On a cool October night at Burnham Field in Hanover, the Dartmouth men's soccer team was locked in a nail-biter against Ivy League rival Columbia University.
"Midway through the first half, Donawa made his second career appearance for the Big Green as a substitute, and in the 42nd minute, fired a bullet from 40 yards out that landed in the bottom back right corner of the net.
"In celebration, Donawa ran over to the sideline, exuberantly punching the air as he was mobbed by his teammates.
"When asked about the goal in an interview with Dartmouth Sports, Donawa shrugged off the feat.
"Only being my second game back, I was just looking to make an impact as soon as I came on the field," he said of the goal. "I actually underestimated how far out it was and just said 'let me take a shot,' and caught the keeper off guard."
"Donawa is no stranger to the limelight. At Dartmouth, he stars as a forward and midfielder for the men's soccer team and as a triple jumper for the track and field team. Hailing from the tropical island of Bermuda, Donawa has represented his country in both soccer and track and field.
"In his first official appearance for Bermuda's national soccer team in a World Cup Qualifier against the Bahamas in March 2015, Donawa scored two goals. In 2013, he placed seventh in the world among youth triple jumpers at the IAAF World Youth Track and Field Championships.
Video of Donawa's first goal of the season, a powerful strike from some 40 yards out:
Hey @TopDrawerSoccer how about this blast from Justin Donawa '19 for goal of the week. pic.twitter.com/NUR2UkIzvc

— Dartmouth M Soccer (@DartmouthMSoc) October 26, 2015
"It's rare that we get a guy like Justin, who's competed [at the international level], to come to Dartmouth," said Tim Wunderlich, who coaches jumps and multis events for the Dartmouth track and field teams.
"Competing in both sports has made his practice and training schedule quite hectic. On Mondays, he works out with the soccer team. On Tuesday mornings he does soccer training and then works with Wunderlich on jumps right after.
"On Wednesdays, he lifts with the soccer team. On Thursdays, he practices with the soccer team and then later in the day works with the track team. On Fridays, if he has a track meet on Saturday, he does the track team's pre-meet workout — "so that he's a bit fresher," Wunderlich said.
"It's pretty busy, but it's manageable," Donawa said of his schedule. "Most of my time is devoted to soccer, even though triple jump is a more technical event."
Read More About