Coco Reef Bermuda has been featured in the latest issue of Travel Trade Gazette, a UK-based publication for the travel industry, with the article featuring the "theatrical entrance" of the Paget resort.
Judith Baker wrote, "The first few steps one takes into a hotel represent the opening sequence of a vacation, or maybe a love affair or even a crucial meeting.
"First impressions always speak volumes but the minute you step through the entrance doors of Coco Reef Bermuda, you know instinctively that you are entering a very different Bermudian resort
"For the lobby of this beachfront resort in one of Bermuda's prettiest locations vies with the likes of Paris George Cinq or the Ritz Madrid for the sheer impact created by its breath-taking lobby.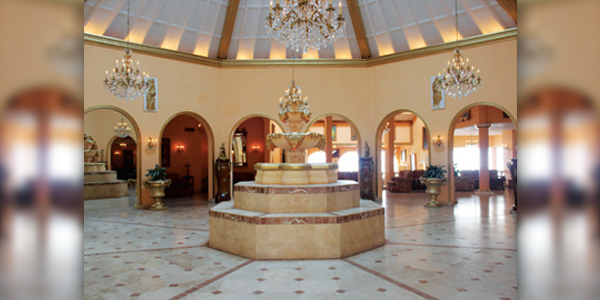 "Dominated by a 68 foot high atrium and a central Marble fountain, four huge arched mirrors reflect a wealth of artefacts from all over the world including classical sculptures, handmade stone murals, large custom designed plinths, French Louis xiv sideboards, antique clocks and Grecian style urns.
"Over 70 magical chandeliers and sconces, made of the finest crystal and gold, twinkle like jewels in the tropical sunlight, changing from sapphire to ruby and emerald colours depending on the time of day.
"Bold contemporary Cuban paintings of huge eyed women's faces look down on Spanish marble floors while historical seascapes and still life oil paintings in ornate frames adorn the surrounding walls creating an eclectic and powerful mix of old and new, traditional and modern. Gold-plated statuettes of mermaids and nymphs peek out into a jaw-dropping tableau that is an Aladdin's cave of treasures."
The article is below [larger version available here in PDF]: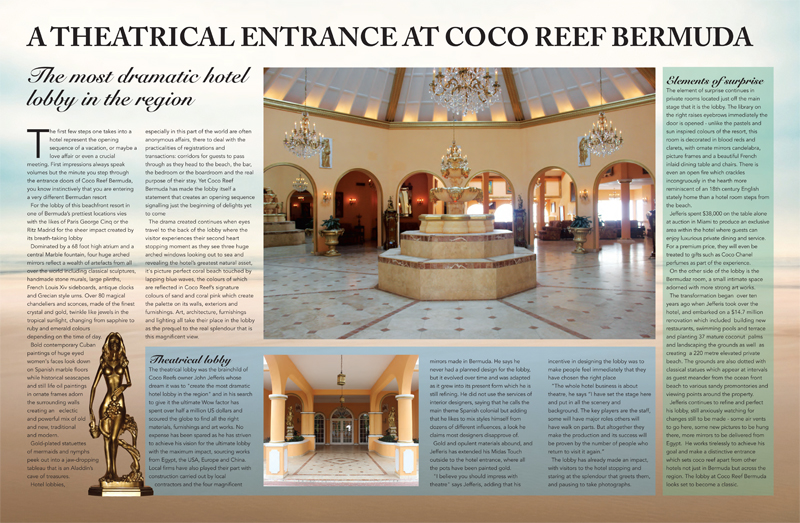 Read More About
Category: All, Entertainment