This Saturday [March 9] there will be an open house at the historic Aunt Nea's Inn in St George's, with the guest house having been listed for sale at a price of $2,995,000.
In describing the property, the sales agent said, "Built in 1791, historic Aunt Nea's Inn represents a unique opportunity to invest in Bermuda's growing tourism industry.
"Lovingly restored, this iconic property is situated in the Olde Towne of St. George's, a UNESCO designated historic site, and enjoys central positioning atop a manicured lot of over a half acre. Investors will enjoy a fully turn-key operation, providing 11 revenue generating units, all in quality condition.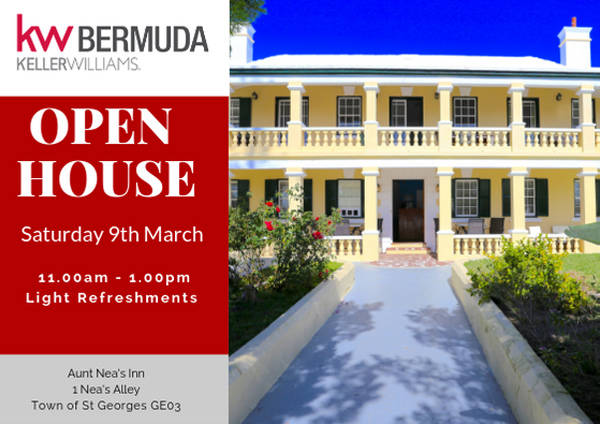 "Steeped in history, this 5500 sq ft property at one time was the home to the American Consul. It was during his tenure as a guest of the Consul, that noteworthy Irish poet Thomas Moore penned the poem 'Odes to Nea.'
"The scandalous poem details his lust for his married neighbour, Hester 'Nea' Tucker. The property was transformed from private residence to a guest house in the early 1960's but retains most of its original character and charm including beautiful original cedar woodwork and original craftsmanship from the 1700s. The property underwent a complete renovation in 2015, including all plumbing, electrical, flooring and new furniture.
"Guests to Aunt Nea's enjoy an oasis of tranquility, manicured gardens and stunning St George's Harbour views from wraparound upper floor balconies. The Inn is located in the heart of downtown and convenient to; restaurants, bars, groceries, pharmacies, tourism information, public transport and the quaint beach known as Tobacco Bay.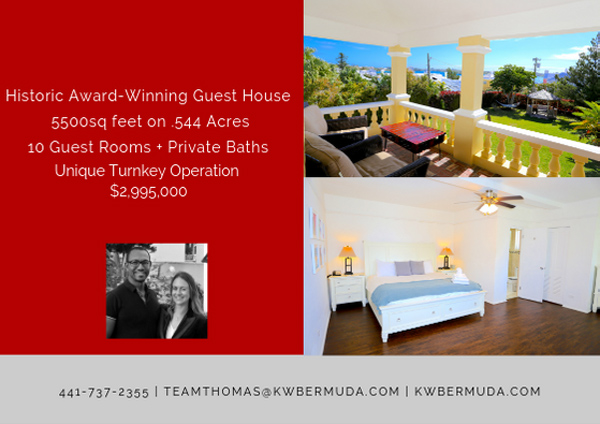 "This unique property is listed for $2,995,000. Financial information available for investors showing keen interest.
"This Saturday, March 9th, 11am – 1pm join real estate agents, St. George's property investors and tourism-entrepreneurs Belcario & Natasha Thomas at Team Thomas Keller Williams, Bermuda. RSVP TeamThomas@kwbermuda.com or WhatsApp 737-2355."

Read More About