[Updated] At approximately 8.45am this morning [April 13] there was an industrial accident in the St Augustine area of Pembroke, in which we understand a man was injured after falling off a ladder.
Police and fire personnel are on scene, and further details are limited at this time, however we will update as able.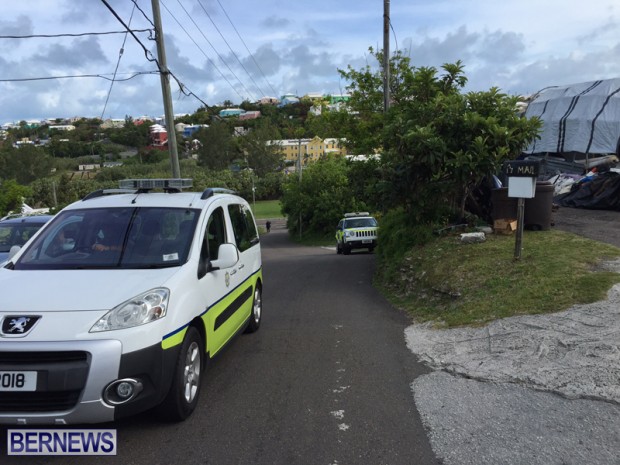 Update 9.52am: Police Media Manager Dwayne Caines said, "At approximately 8.50am, police and first responders attended a report of an incident that took place on St Augustine's Lane in Pembroke.
"It appears that a painter on a Bermuda Housing Corporation rental unit had started the process of working on that unit, when the ladder became unsteady and the 36-year-old male fell approximately 25 feet to the ground.
"The 36-year-old was transported to the hospital where he is being treated for his injuries, and the seriousness of his injuries are unknown at this point in time."
"Health and Safety Officers are on the scene, and an investigation into the matter is now underway."
Update 9.59am: Audio statement from Mr Caines
Update 10.26am: The BFRS said, "At 8.54am today, the Bermuda Fire and Rescue Service responded to an incident where a male who is approximately 36-years-old, had fallen approximately 35 feet from the roof of a St. Augustine Lane residence.
BFRS Staff Officer Mark Prior said, "One Fire service vehicle manned with four personnel responded to the incident and administered emergency medical assistance to the man, who appears to have sustained non-life threatening injuries.
"BFRS emergency medical technicians assisted KEMH personnel in placing the man into an ambulance, which transported him to The hospital for further medical attention."
Update 1.30pm: A Police spokesperson said, "The victim, a 36 year old male has suffered hand, chest and abdominal injuries and is now in ICU where he is listed in stable condition."
Read More About
Category: Accidents and fires, All, News