Military padre Lt Musa Daba made Royal Bermuda Regiment [RBR] history by becoming the first chaplain to complete recruit camp as a private soldier.
Now a Lieutenant after completing January's recruit camp, the RBR chaplain is on his first overseas deployment in Jamaica and took time out to meet a counterpart at the Jamaican Defence Force [JDF] at Up Park Camp in Kingston.
Lt Daba — the parish priest at St Mark's Anglican Church in Smith's — said: "It's very useful to learn from those who have gone before and it doesn't matter which army they are from – there's a lot to learn about what a chaplain does."
JDF chaplain Major Denston Smalling, an army chaplain for 10 years, added: "It's good to meet chaplains from other countries and other units.
"The role is to offer spiritual guidance and direction. In our service, the chaplain is also the service's welfare officer, so that's part of what we do as well."
Major Smalling works with 3000 soldiers and their dependents at Up Park Camp, the headquarters of the JDF, and also covers the roles of education officer and returning officer for Jamaican general elections.
JDF chaplain Major Denston Smalling and RBR padre Lt Musa Daba outside the Up Park Camp chapel in Kingston, Jamaica.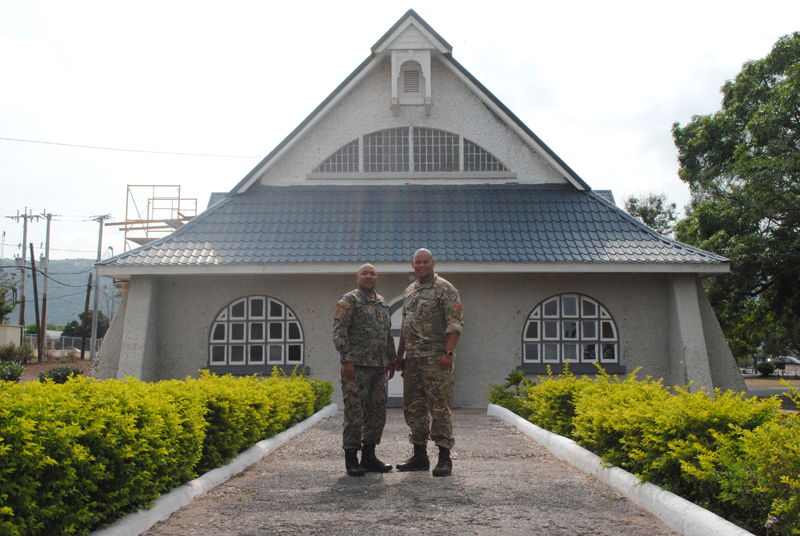 Lt Duba, 43, explained that he had considered a career in the military, but would not join the army in his homeland of South Africa under the brutal apartheid regime.
The married father of a 12-year-old daughter said: "I felt I had to do recruit camp. It was one way to be part of the group and feel what the troops have to go through.
"Having no military background, I wanted to know what goes on. It also builds trust because they know you've been in the trenches with them."
He added: "I love it. I love the life. I know it's part-time, but there is a sense of discipline and seeing young men and young women being moulded and being part of that moulding is great.
"It's very important and it's something I wish I had done earlier."
And Lt Daba said: "Being in the Regiment is just another way to serve Bermuda and I'm more than happy to do it."

Read More About
Category: All