Professional triathlete Tyler Butterfield is continuing his pursuit of athletic excellence with the renewal of his partnership with Mavic, which will see the Bermudian athlete ride Mavic wheels, tires and shoes through 2017.
A spokesperson said, "Founded in 1889 in France, Mavic has been a relentless innovator ever since, focused on providing the ultimate in performance and reliability for riders, while using risk-taking ingenuity and an avant-garde attitude to create products that set the brand far ahead of the pack.
"Driven by the pure passion for cycling that is rooted in French culture, Mavic hones in on the most intense moments in sport, targeting their technologies to gain those vital few seconds that help cyclists emerge on top."
"Working with Tyler started in the best possible way – through the proof of our products," said Chad Moore, Mavic Brand Manager.
"Tyler chose Mavic because we have the fastest wheels in triathlon and we are very happy to continue our relationship with him for many years to come. Tyler will be a great influence in the evolution of our products and we feel very fortunate that he chose Mavic to help him achieve his goals."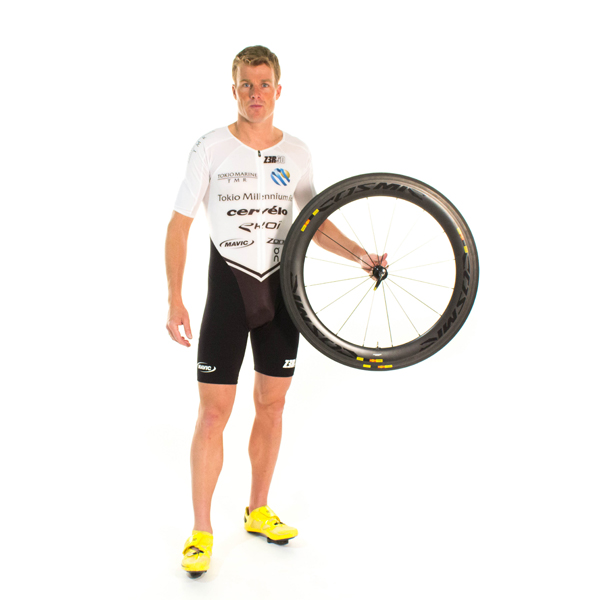 "Butterfield's Mavic products will carry him along some of the most challenging and iconic courses on the triathlon circuit, where he'll compete against the best athletes in the world. His 2016 season kicks off on May 7th at the notoriously tough Ironman 70.3 North American Pro Championship in St. George, Utah.
"In July, Butterfield will tackle the record-setting Challenge Roth course, highlighted by legendary Solar Hill with crowds reminiscent of the Tour de France. His late season focus will again be on the 2016 Ironman World Championship in Kailua-Kona, Hawaii, where he'll return after a personal best top five finish in 2015.
"Butterfield's road to Kona will also include a stop at the Ironman 70.3 World Championship in Mooloolaba, Australia."
"There are no wheels and tires that perform better and that I trust more than Mavic. And Mavic shoes are not only lightweight and comfortable, they provide incredible power transfer to the pedals," said Butterfield.
"Throughout my career training and racing as a professional athlete in both triathlon and cycling, I've ridden many products in many different conditions, and Mavic is my brand of choice. I'm thrilled to continue working with them – thanks to their exceptional product and because of the extraordinary team behind the brand."

Read More About