Hamilton Princess & Beach Club today [May 26] announced the opening of its new exhale gym on June 1, 2016.
The full-service gym is located on the main floor of the hotel, in the retail corridor. The fitness centre features a full-length window that offers views of the marina and harbour.
The gym is equipped with machines from TechnoGym, a leading global manufacturer of commercial fitness and gym equipment, including six treadmills, three synchro elliptical cross trainers and stationary bicycles.
Also there are multiple resistance leg machines, free weights and kinesis machines. For the convenience of gym users, a locker room and changing facility is available with showers that are fully stocked with towels, soap, shampoo and conditioner.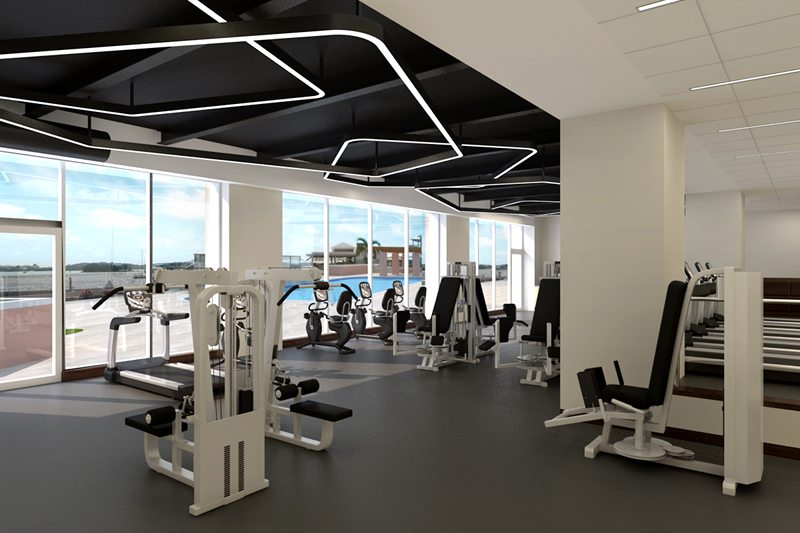 In addition to the gym area, there is a separate exercise class room designed for Barre and other group fitness classes.
As of June 1, the fitness centre will offer a regular schedule of exhale group fitness classes, including Core Fusion Barre + Cardio, which features cardio-centric punches, twists and mountain climbers on the mat, before toning thighs and glutes at the barre; Core Fusion Barre, a full-body workout that uses the barre and mat to strengthen, lengthen and tone muscles throughout the body; and Power Yoga, an athletically and mentally challenging yoga class set that is set to upbeat music.
For a class schedule, visit the Book Now Bermuda section of www.exhalespa.com. Classes cost $25 each, $120 for a five-pack, $230 for a 10-pack or $430 for a 20-pack.
"We are thrilled to open the exhale fitness centre at Hamilton Princess. A lot of planning and vision went into the design and creation of the space. We are so proud of its finished look," said Menique De La Rosa, Spa Director, exhale. "
The exhale brand is well known around the world and our trainers have undergone coaching with the founders and experts at exhale in order to bring their established techniques and philosophy to Hamilton Princess & Beach Club."
From 5pm to 8pm today there will be an open house of the fitness centre and class studio for anyone interested in seeing the space. To register for the open house, go to www.exhalespa.com and select Bermuda in the Book Now button.
"We are excited to open our new gym. It's modern look and prime location overlooking the harbour will offer exercisers an inspiring experience," said Allan Federer, General Manager, Hamilton Princess & Beach Club.
"Many people have enjoyed the preview group fitness classes we offered over the past few months. In the new fitness centre, participants will have the benefit of individual and group exercise in the beautiful new space."
The gym opens from Monday through Friday from 6am until 9pm and on the weekend from 8am until 8pm.
A fitness membership is $185 per month, or $165 per month for an annual membership, and includes unlimited fitness classes and gym access, preferred personal training rates and packages, 10 per cent discount on boutique purchases and 15 per cent discount on spa therapies, once the spa opens in July. In house guests have access to the gym, otherwise a membership is required.
A seasonal membership is available from now through October for $550 per month and includes admission to the Princess Beach Club, unlimited access to fitness classes and the gym, preferred personal training rates and packages, 10 per cent discount on boutique purchases and 15 per cent discount on spa therapies, once the spa opens. An additional family member can be added for $100 per month, or $50 for a child add-on.
To register for membership or learn more, call 298-6064 or visit exhalespa.com/bermuda.

Read More About