Starting today [June 2], there will be a vaccination clinic at the Hamilton Princess - held from 3pm to 7pm — with people who get vaccinated being entered into a daily raffle draw in which a number of prizes are on offer.
A spokesperson said, "Hamilton Princess & Beach Club will be playing host this week to one of the Department of Health's pop-up vaccination clinics, in conjunction with the Bermuda Hotel Association [BHA].
"Beginning today, Wednesday 2nd. June 2021, until Friday 4th. June 2021, from 3pm until 7pm, members of the general public, as well as hotel industry colleagues, will be able to walk-in to a temporary clinic in the hotel's Princess Ballroom for their initial vaccine.
"A valid ID which includes a photograph, is the only thing that is needed for all attendees to receive their vaccination on the spot. What's more, those awaiting their vaccine or in the 15 minute observation period, will be able to indulge in a refreshing mango lemonade as well as to sample The Duchess Café & Gelateria's famous chocolate chip cookies.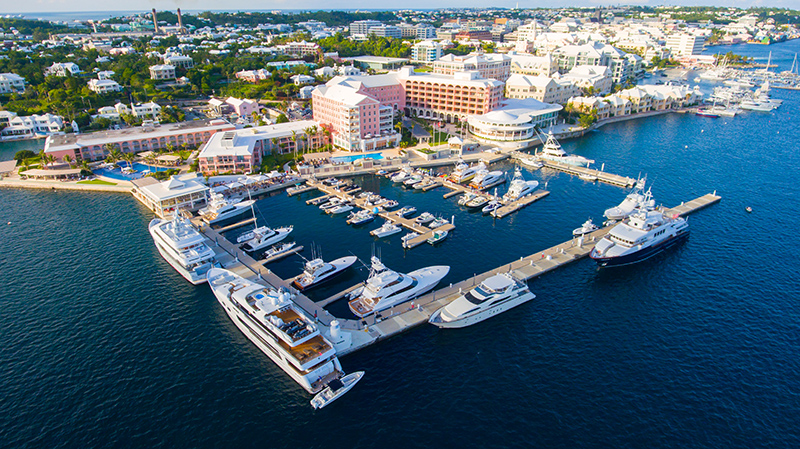 "For those looking for a reason to get their first jab over the next few days, the Hamilton Princess is putting its signature indulgent stamp on the event: each person who receives a vaccine on site will be given a 50% discount voucher for Crown & Anchor's famous Sunday Brunch [valid for two people until the 1st of September 2021] and will be entered into an exclusive daily draw solely for those who were vaccinated at the Pink Palace.
"Prizes in this raffle include, each day, a weekend stay in a Gold room at the resort, a $500 grocery voucher and two $50 vouchers from the MEF Group, whose restaurants include the Fourways Inn, L'Oriental and Little Venice. There will also be a two night staycation and round of golf for two at Newstead Belmont Hills in a final draw from the three days of the vaccination pop-up initiative.
"As if that wasn't enough, Frontline Foundation volunteers will also be on site to give out $50 vouchers – which can be used at one of 65 local businesses – to those who receive a vaccine. Each of these $50 vouchers will also be matched with a gift card for a front line worker, so those getting vaccinated can share with those that keep the community safe all year round.
"The BHA's daily raffle at the Hamilton Princess & Beach Club will be in addition to the Back to Business Community Giveaway's twice daily raffles, as recently announced by the Bermuda Health Council and the BHA. Specifically, a number of member hotels have donated prizes with a range of prizes consisting of golf passes and cart use at Rosewood Bermuda and the Fairmont Southampton, dining vouchers at Cambridge Beaches, The Loren Hotel at Pink Beach, The Reefs, as well as staycations at Coco Reef, Grotto Bay Beach Hotel & Spa, the Royal Palms Hotel and more."
Tim Morrison, General Manager of the Hamilton Princess & Beach Club and President of the Bermuda Hotel Association, said: "Hamilton Princess & Beach Club is proud to do its part in supporting the Department of Health in providing easy to access and convenient locations for its pop up vaccination clinics. With the summer season upon us and tourism returning to the island, it's incredibly important to ensure that as many of us are vaccinated as possible to maximise the safety and wellbeing of our community."
Stephen Todd, Chief Executive Officer of the Bermuda Hotel Association, added: "Our association members welcomed the opportunity to partner with the Bermuda Health Council and our member property, the Hamilton Princess & Beach Club in both promoting and encouraging members of the public as well as our hotel industry colleagues, to receive their vaccinations during the course of the following days, as we collectively seek to ensure that our overall community, and our future visitors continue to remain safe as we fully reopen our economy. Our sincere thanks go out to everyone who participated in making this promotion of the pop-up vaccination clinic possible."

You can find more information on the links below and also on our dedicated website BermudaCovid.com, which is the most comprehensive resource and historic record available of Bermuda's handling of the pandemic.
Read More About