[Updated with video + OBA response] The PLP held a press conference today where they addressed the termination of MP Lawrence Scott from his private sector job, saying "it appears to be retribution for his public stance against the OBA's plan to privatise our airport to Canadian company Aecon."
Mr Scott — who serves as the Shadow Minister of Transport — attended Embry Riddle Aeronautical University and Lynn University where he received a Bachelor of Science in Business Administration in Aviation Management and Flight Training.
He also obtained his Federal Aviation Administration pilot certification, and worked as a Supervisor for JetBlue Airways until he was terminated recently.
Mr Scott said that approximately six months ago he was contacted by the head of JetBlue Governmental affairs, and informed that the company had been contacted by Aecon in relation to his Parliamentary speeches and town hall meetings against the airport redevelopment.
"Shortly after that my manager flew up to JetBlue's HQ in NYC to meet with the CEO of JetBlue, Mr Land, and a delegation for the Bermuda Government headed by the Premier," said Mr Scott.
"On his return I was surprised that my manager raised questions concerning a charitable donation in the context of tickets I made on behalf of JetBlue eleven months earlier to a local charity.
'Next thing I knew, a lady from HR flew on to the island asking the same questions and placed me on suspension and a month later I was terminated."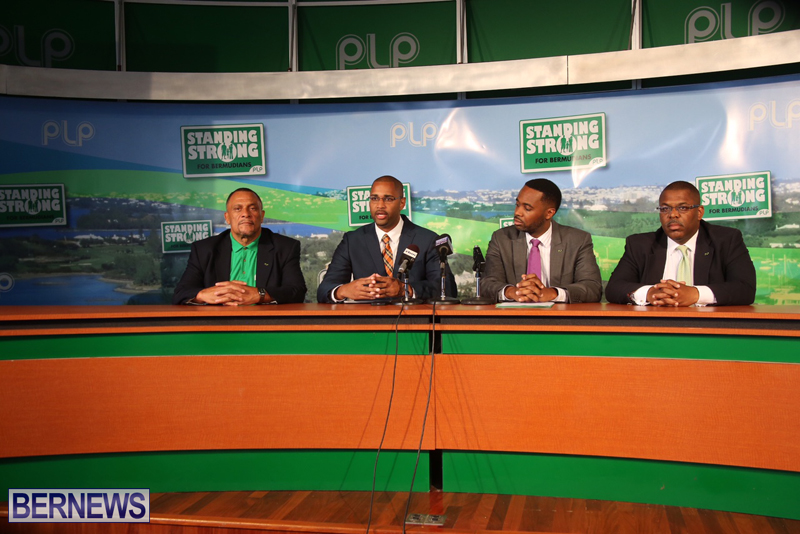 Also speaking at today's press conference was Shadow Minister of Finance David Burt who said the PLP "condemns the termination of MP Lawrence Scott in what appears to be retribution for his public stance against the OBA's plan to privatise our airport to Canadian company Aecon.
"It was not so long ago that Bermudians faced having their mortgages pulled, being fired, blackballed, or subjected to various forms of economic terrorism for freely expressing their views on the public affairs of our country.
"It was not so long ago that companies and individuals used their power and influence to destroy their political opponents. And while many thought those days ended in 1998, it is becoming increasingly apparent that under the OBA, those days are here again.
Mr Burt added that the fact that MP Scott appears to have been "targeted at his place of work due to his stance against the privatization of our airport is a clear violation of his constitutional and human rights" adding that "it also must give all Bermudians pause that the OBA has chosen to partner with Aecon."
"This is the same company that sends people to local town halls and tries to get questions planted in local press conferences. This is the behaviour of a company that the OBA want to run our airport for 30 years.
"The Bermuda Progressive Labour Party unreservedly condemns this unjust targeting of MP Lawrence Scott and we will continue to stand by him as he seeks full legal redress.
"This type of behaviour has no place in Bermuda in 2016 and we call on all Bermudians to stand with us as we fight against those who would seek to roll back the clock and take us back to the days where our leaders are punished economically due to the stances they take publicly."
Update 7.18pm: In response, an OBA spokesperson said, "The One Bermuda Alliance is extremely disappointed with the alarmist and sensationalist allegations arising from PLP press conference about Jet Blue's firing of MP Lawrence Scott for reportedly violating company policy.
"If Mr. Scott believes he was unfairly treated by Jet Blue or anyone else, then he should seek recourse through the courts. Indeed, we encourage him to take action to clear the air.
"Likewise, if Mr. Burt truly believes Mr. Scott's firing was politically motivated, then he should produce evidence and take appropriate action. Otherwise, like his misrepresentation of the recent Public Accounts Committee meeting, it appears Mr. Burt is making up a story to suit his political agenda."

Read More About