[Updated] "Bermuda's genuine friendliness and rich culture is a locally-sourced commodity as exportable as oil, coal or diamonds," Bermuda Tourism Authority CEO Bill Hanbury said at today's [Mar 31] Hospitality Month launch on the steps of City Hall.
Throughout April, Hospitality Month will focus on all aspects of Bermuda's hospitality industry, with the theme being, "Experience Bermuda."
The purpose of the month is to: promote the industry's economic importance, recognize and celebrate individuals and organizations representing the best of the industry, and focus on the role all residents play in promoting Bermudian hospitality.
Speaking at the launch today, Mr Hanbury said, "The Bermuda Tourism Authority is proud to support the Bermuda Hospitality Institute and sponsor the third annual Hospitality Month.
"As you know, BHI is the education arm of the country's tourism apparatus. Malika Musson, Pahn-ya Ratteray and the BHI team and its Board do an excellent job promoting the exciting opportunities of a hospitality industry career to our young people. They also help to advance the careers of those already in the industry and that is the focus of the Tourism Authority's recently launched National Service Standards Program.
"Earlier this year, under an agreement with the BTA, the BHI began educating hundreds of workers who engage with our visitors on the front line and ultimately we certify them as tourism ambassadors. 320 people are already in this certification pipeline.
"This means hotel front desk personnel, retail workers and restaurateurs, plus other people who have a direct impact on the visitor experience like: ferry operators, taxi drivers, police officers and hospital workers.
"The goal is to build an army of tourism ambassadors across the island by creating a standard knowledge base about Bermuda: the best of Bermuda's culture, the richness of Bermuda's history and an overview of the unique visitor experiences Bermuda has to offer.
"If visitors have a series of meaningful interactions with the people they meet it will greatly enhance their experience. There's no doubt about it. Plus, when we raise our service game and better educate visitors about the unique experiences available to them, it will almost certainly motivate them to spend more while they're here.
"Bottom line: Bermuda's genuine friendliness and rich culture is a locally-sourced commodity as exportable as oil, coal or diamonds – and the BHI is expertly mining Bermuda's tourism commodities.
"During Hospitality Month, we can't wait to introduce the public to our first class of certified tourism ambassadors. We want to recognize them and celebrate them. I've spoken with a few and they are fired up about what they've learned and they're anxious to share their knowledge with visitors.
"In the coming months, under the oversight of our COO Karla Lacey, the BHI will make the National Service Standards Program available to more people. If you enjoy engaging with visitors you will certainly enjoy becoming a certified tourism ambassador.
"In the meantime, there is something you can do to get ready for the tourism industry resurgence we are planning. During the month of April we encourage you to get out there and sample some Bermuda tourism experiences. Be a tourist in your own country.
"Maybe try something new like fly boarding, or create your own custom fragrance at The Bermuda Perfumery. Maybe take a walk on the improved railway trail in Hamilton Parish. Or perhaps re-engage in something you haven't experienced in a while like a stroll through historic St. George, a trip to the St. David's lighthouse, or try a fish sandwich from Art Mel's.
"Here's our challenge to you: find some time this month to fall in love with Bermuda all over again, even if it's for just a few hours. We want to see thousands of Bermuda residents immersing themselves at local beaches and attractions, restaurants and excursions.
"We feel pretty confident you're going to love it and quite honestly I can't think of a better way to celebrate Hospitality Month than to actually experience Bermudian hospitality," concluded Mr. Hanbury.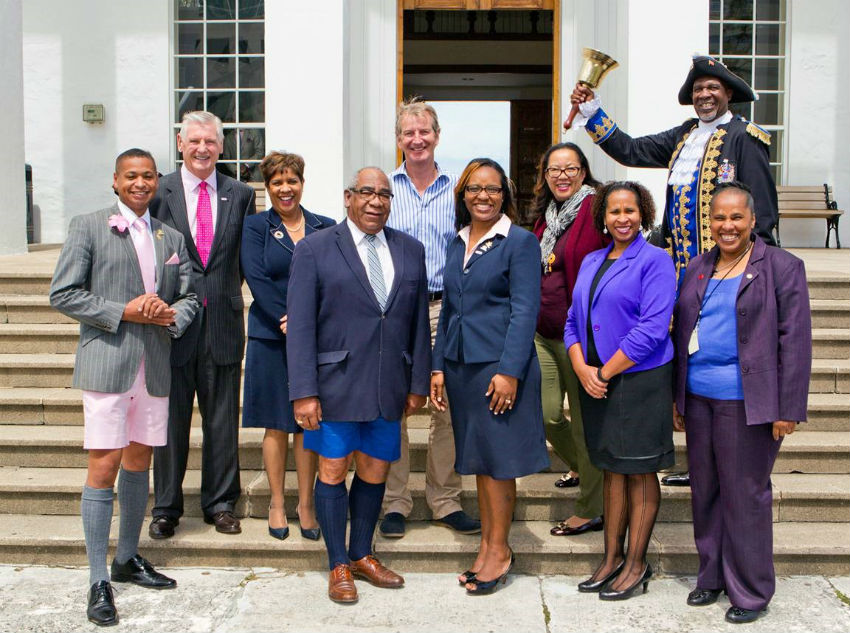 Update 4.09pm: Executive Director of the Bermuda Hospitality Institute Malika Musson said, "I am very excited to let you know about our 3rd Annual Hospitality Month.
"The theme for the month is "Experience Bermuda". Each week during the month of April we will highlight a different area of the island. April 6th – 12th focuses on Central and City, April 13th – 19th is the Eastern End, April 20th – 26th highlights the Sound and shore locations and the Western end of the island will close out the month April 27th – May 2nd.
"It is important for each one of us to be welcoming to our island guests, because the hospitality of Bermuda's people continues to prove as our differentiator and provides the most satisfaction to our visitors.
"By being friendly, neighbourly, courteous and helpful to everyone, you are doing your part in making Bermuda a desirable destination and making Bermuda's hospitality industry the best it can be. You create the difference between a good experience and a bad one. We need everyone's help to make our visitor's stay memorable and fun.
"So get out and get involved. You are Bermuda's special Ambassadors, because this is your home and you know it best. Hospitality month aims to promote all aspects of the local hospitality industry so we can encourage everyone to go out and see what Bermuda has to offer. After all, how can you promote places that you have never visited?
"By getting out there and experiencing Bermuda, you are getting to know your island better, and becoming more knowledgeable about what Bermuda has to offer. The next time a visitor asks you for directions to one of our beaches or asks you where to eat in St. George's, you will know exactly what to say. The better you know Bermuda, the better you can promote it."
Read More About