"The Bermuda Trade Union Congress [BTUC] strongly believes that is it time for Bermuda to establish and implement a liveable wage standard in Bermuda," Jason Hayward said.
"As the economy begins to stabilize, the call for a living wage is timely as it is a necessary component of sustainable economic recovery.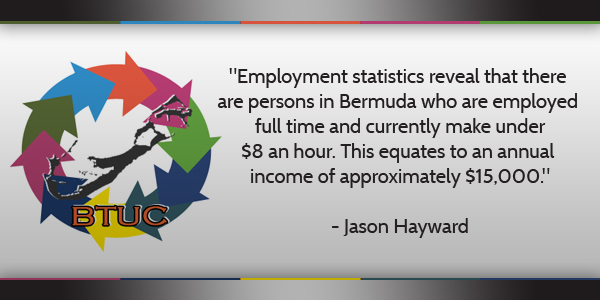 "The establishment of a living wage will:
Enable workers to live decent lives
Enable working families to have sufficient income to cover reasonable costs
Reduce income inequalities in Bermuda
Reduce the financial stress on families
Aid in the country's economic development
Increase the Government's tax revenues
"There is no generally accepted definition of what a living wage is, however, its aim is to provide a worker with a fair wage that will enable a person to meet basic needs and maintain an adequate standard of living within their community," continued Mr Hayward.
"A living wage is fundamentally different from that of a minimum wage. A living wage takes into consideration the cost of essential items such as food, transportation and housing and serves as an informal benchmark whereas a minimum wage is a legally enforceable minimum level of pay.
"Throughout the world, there has been a growing recognition for the need to establish of a living wage. The international community and, in particular, the International Labour Organization [ILO] acknowledge a living wage is as a human right.
"In his research paper "Estimating a Living Wage: A Methodological Review ", Richard Anker, retired Senior Economist of the ILO highlighted the following:
The international community clearly considers living wage as a human right.

The following international conventions and declarations recognize the need for workers to receive a living wage: United Nations Declaration of Human Rights [1948], American Declaration on the Rights and Duties of Man [Organization of American States, 1948], European Charter [Council of Europe, 1961], United Nations International Covenant on Economic and Social Cultural Rights [1966] and the American Convention on Human Rights in the Area of Economic, Social and Cultural Rights, Additional Protocol [Organization of American States, 1988]. According to Article 23 of the United Nations Universal Declaration of Human Rights [1948]:

Everyone who works has the right to just and favorable remuneration ensuring for himself and his family an existence worthy of human dignity
"In addition:
The ILO also considers a living wage as a human right in the sense that living wage is included in ILO major Declarations that take on the weight of rights. Living wage is mentioned in the 1919 ILO Constitution, the 1944 ILO Philadelphia Declaration Concerning the Aims and Purposes of the International Labor Organisation, and the 2008 ILO Declaration on Social Justice for a Fair Globalization. Living wage is also included in the 2006 ILO Declaration on Principles concerning Multinational Enterprises and Social Policy. The Preamble to the ILO's Constitution goes so far as to say that better working conditions that include a living wage are required to ensure "universal and lasting peace".

"Whereas universal and lasting peace can be established only if it is based upon social justice;

"And whereas conditions of labour exist involving such injustice hardship and privation to large numbers of people as to produce unrest so great that the peace and harmony of the world are imperilled; and an improvement of those conditions is urgently required; as, for example, by … the provision of an adequate living wage.
"Support for a living wage dates back centuries with Popes, NGO's, renowned economists and world leaders all having contributed to the debate in support for the need of a living wage. In May 2014, the BTUC along with the People's Campaign for Equality, Jobs and Justice presented a manifesto to the Government and Opposition which called for the establishment of a living wage.
"The inclusion of a living wage in the People's Campaign Manifesto was a direct result of listening to the concerns of employed persons within our community who found it increasingly difficult to provide necessities for themselves and their families.
"The high cost of living in Bermuda makes it extremely difficult for lower-income families in Bermuda. Employment statistics reveal that there are persons in Bermuda who are employed full time and currently make under $8 an hour. This equates to an annual income of approximately $15,000.
"While the establishment of a living wage would not affect the majority of Bermuda's working population, it has the potential to have a major impact on a number of occupational categories including cashiers, air freight/passenger agents, nannies, bar porters, chambermaids, bus boys, child-care workers, cleaners, tailors, and, pump persons.
"The median income for these occupational categories currently range between $20,000 and $30,000 per annum. This statistic is particularly concerning as it reveals that half of the workers in these occupational categories make below that range.
"Many will argue that the establishment of a living wage will have an adverse effect on jobs. The data, however, suggests that modest increases in the wages of lower income earners will not negatively impact jobs numbers.
For example, the US Department of Labour reported:
In recent years there have been important developments in the academic literature on the effect of increases in the minimum wage on employment, with the weight of evidence now showing that increases in the minimum wage have had little or no negative effect on the employment of minimum-wage workers, even during times of weakness in the labor market. Research suggests that a minimum-wage increase could have a small stimulative effect on the economy as low-wage workers spend their additional earnings, raising demand and job growth, and providing some help on the jobs front.
"Additionally, studies have found that employers who incorporate a living wage in their establishments can expect:
Improved level of service
Improved employees opinion and commitment to their role
Improved productivity
Increased motivation and morale
Reduced absenteeism
Substantial positive impacts on recruitment and retention
"As a result of the immigration protest in March 2016, the Government committed to having dialogue on a living wage. The Labour Advisory Council will be the forum in which the establishment of a living wage for Bermuda will be discussed.
"The BTUC strongly supports having this dialogue as it is a step in the right direction for Bermuda," concluded Mr Hayward.
Read More About