The Bermuda Anglers Club hosted its 50th International Light Tackle Tournament [ILTT], an Offshore World Championship qualifying event last week. Nine teams of three anglers each competed using 12lb test line.
Craig MacIntyre 66.8lb Yellowfin Tuna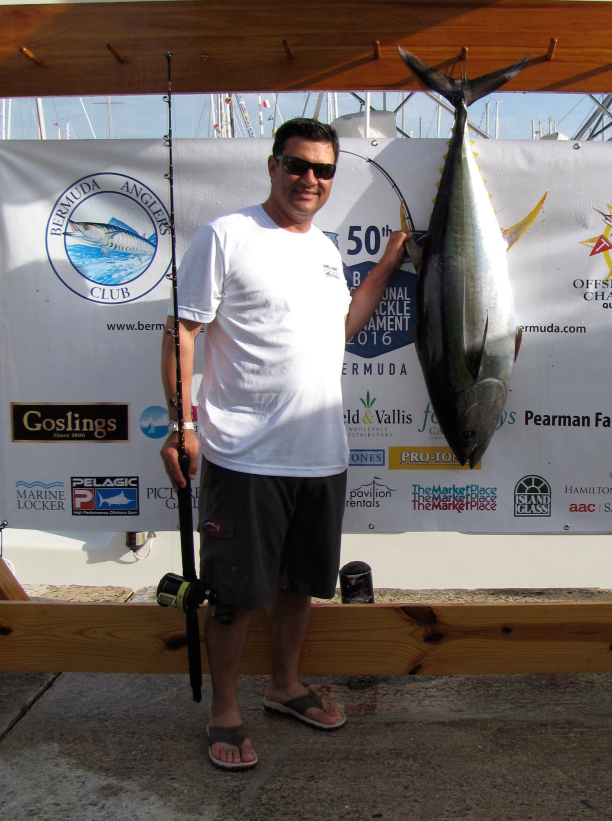 The fishing was exceptional with yellowfin tunas in the 40 to 60 pound range being caught over three days of fishing. Local angler, who was new to the tournament, Craig MacIntyre caught the largest fish for the event at 66.8lb.
His teammate Niel Jones was overall High Point Angler winning a Tudor watch presented by Andrew Crisson from Crisson Jewellers. Aron Long for the Bahamas was awarded the Meritas prize for releasing a white marlin.
Andrew Crisson with Niel Jones High Point Angler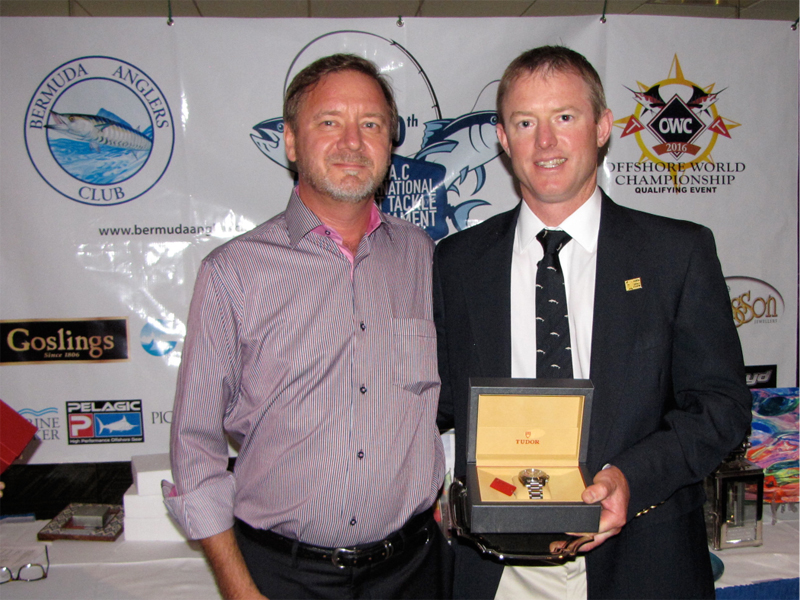 The overall top teams were in third place – Reel Anglers – David Fingland, Scott Deal and Aron Long from the Bahamas and US, who came from behind, to have their best day on Friday to push them in to third.
New team Pelagic Playas from Bermuda – Niel Jones, Craig MacIntyre and Matthew Strong, were top team going into the final day of fishing on Friday but lost out by 56 points to place second.
Bermuda Water Tours – Danny Fox, Paul Fox, Bobby Rego, Sean Correia, Kip Froud Bermuda Anglers Club President helps hold the tournament trophy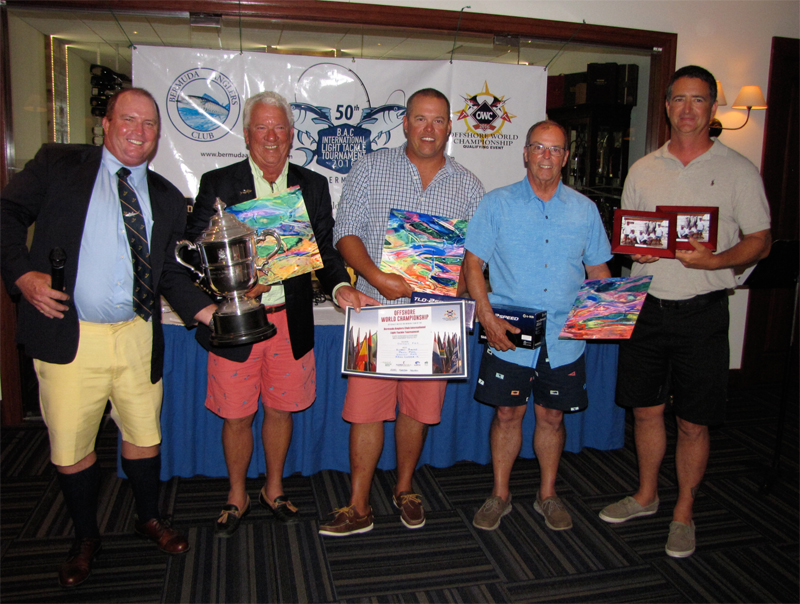 The team of Bermuda Water Tours with veteran anglers Danny Fox, who has fished the event 21 times, his long time teammate came out of retirement Bobby Rego along with Mr. Fox's sons Paul and Kevin and Sean Correia caught enough fish on the final fishing day to be come the tournament's 50th champions.
| | | | | |
| --- | --- | --- | --- | --- |
| Trophies |   | Winner | Points | Notes |
| Championship Team | First | Bermuda Water Tours | 22,557 | |
| | Second | Pelagic Playas | 22,501 | |
| | Third | Reel Anglers | 20,912 | |
| Daily High Point Team | Tuesday | Bermuda Water Tours | 8,324 | |
| | Thursday | Pelagic Playas | 11,596 | |
| | Friday | Reel Anglers | 12,627 | |
| Daily High Point Rod | Tuesday | Neil McKinney | 4,974 | |
| | Thursday | Niel Jones | 5,163 | |
| | Friday | Scott Deal | 5,275 | |
| Daily High Point Fish | Tuesday | Craig MacIntyre | 2,459 | 59.5lb YF |
| | Thursday | Craig MacIntyre | 3,099 | 66.8lb YF |
| | Friday | Cindy Mitchell | 2,916 | 64.8lb YF |
| Duval High Point Fish | | Craig MacIntyre | 3,099 | 66.8lb YF |
| Meritas Fish | | Aron Long | 1,700 | White Marlin Release |
| Overall High Point Rod | | Niel Jones | 11,996 | |

Read More About
Category: All