The Bermuda Gymnastics Association has qualified 97 percent of its Competitive Artistic and Rhythmic Team members to participate at this year's USAIGC World Tournament being held in Orlando, Florida at the Hyatt Regency Grand Cypress Hotel.
Although the gymnasts were required to attain a certain score to qualify, the meet is a club to club event featuring gyms from England, Canada, South Africa, and the United States.
Head Coach Adriana Forde said, "Friday, June 24. Bella Charleson [8 years old, Copper 1 Level] has been competing for 1 year, with today's competition being a huge success. Even with a fall on beam she still earned personal best scores on the other events, 1st on Bars with a 9.350, 1st on Floor with a 9.375 and 2nd on Vault with a 9.550.
"Those three amazing scores landed her on the podium for the All-Around 3rd place medal with her personal best of 36.650. What a great start to our World Championship weekend.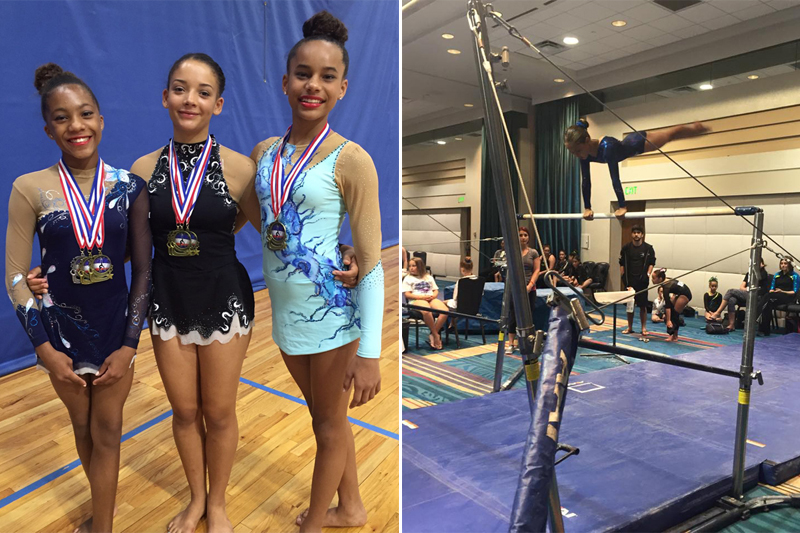 "Saturday, June 25. Teammate Kyra King [10 years old, Copper 1 Level], who is also in her first year of competition, walked away as the Vault Champion in her age category after placing 1st on the event. This was a personal best for Kyra with a score of 9.525 on the vault.
"Kyra also took the Bronze medal on Beam after an amazingly poised routine that scored a 9.200. We congratulate Kyra on her 14th place finish with an All-Around score of 35.950.
"To conclude Azalea Pontes' [10 years old, Copper 1 Level] first year competing on Team, she was pleased to achieve a personal best on Bars with a 9.1 placing her in 5th, 4th on Vault scoring a 9.375 as well as 4th on Beam with another impressive 9.1. Azalea finished in 13th out of 27 competitors with an All-Around score of 36.00.
"Sunday, June 26. Sunday Morning our Rhythmic Gymnasts had a chance to display their talents in Orlando and in the afternoon we have two of our younger Bronze level athletes compete in the all around portion of the competition.
"Mya Furbert-Jacobs [12-years-old]competed in her second World Championships for the USAIGC organization in the under 12year old division in Rhythmic Gymnastics yesterday morning and amazed the crowd with her Flexibility and Control. She took the Gold Medal for her amazing creativity her Free Ex Routine and a Silver medal in her Hoop routine."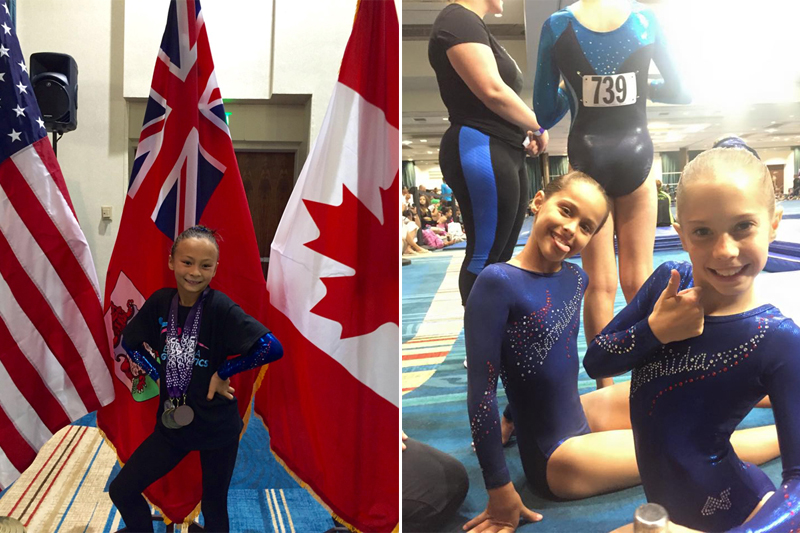 "In Daria Symonds [13-years-old] second World Championships she won the crowds hearts and the 1st Place All Around Title in the Rhythmic 13 year old division after winning Gold in Free Ex and Ball and a Silver Medal in Hoop.
"Both Mya and Daria will be competing in the Artistic Gymnastics Meet on Monday so stay tuned for part two of their amazing results."
"Natalie Lightbourne [14-years-old] displays true artistry as she tells a story with the way she competes with each individual apparatus. Her prefect balance between skill and technique lead to the 1st Place All Around Title for the over 14year division plus the Gold Medals in all 3 of her routines [ Free Ex, Ball and Hoop].
"In the afternoon, we headed right back over to the Artistic Gymnastics side where two of our youngest Bronze level athletes competed in day 1[all around] of competition which acts as a qualifier for event finals, where medals are distributed to the top 50% of athletes on each event."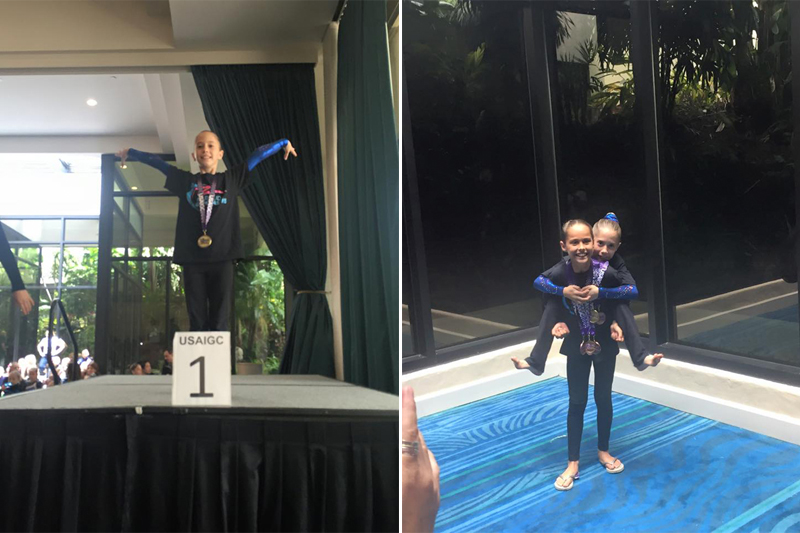 "Bethany Cooze [9-years-old, Bronze Level] is our youngest athlete competing in the Bronze Level division. In her All Around competition Bethany was 14th out of 32 athletes in her age group and qualified for both Beam and Floor finals, which is a huge success."
"Ella Tear [10-years-old, Bronze Level] had a great competition showing the judges much improved quality in her execution, obtaining two 9.0 scores on Vault and Floor. Out of 42 tough competitors, Ella placed 20th in the All Around Competition while also qualifying to Vault finals.
"Coach Caitlyn commented that the girls showed their best ever execution of skills in today's competition.
"The individual improvements and personal best just keep coming! Congratulations to our first set of competitors on their accomplishments across the weekend."

Read More About