Inclement weather and seaweed made for challenging conditions for the 52nd International Light Tackle Tournament [ILTT], held as a single day event on Sunday, June 23.
A spokesperson said, "Originally scheduled as a two-day tournament, fishing on Saturday had to be cancelled due to high seas.
"Ultimately 'Philly For Rum,' representing the United States and fishing on James Robinson's Wound Up, emerged as the championship team. Local teams 'Bermuda Anglers Club' and 'Double Down Byes' took second and third places respectively."
2019 championship team 'Philly For Rum':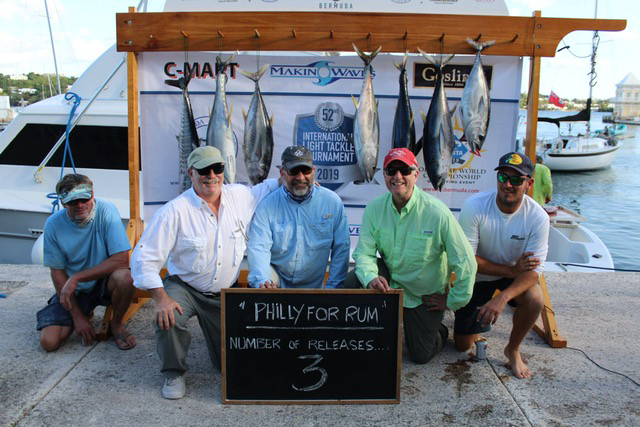 "As the 2019 championship team, 'Philly For Rum' received an invitation to represent the ILTT at the Offshore World Championships in Costa Rica in 2020.
"Eric Hirschberg, team captain of 'Philly For Rum,' was the highest scoring angler for the event and took out the hotly contested DuVal High Point Fish Award with a 42.9lb yellowfin tuna caught on 12lb test line."
2019 second place team 'Bermuda Anglers Club':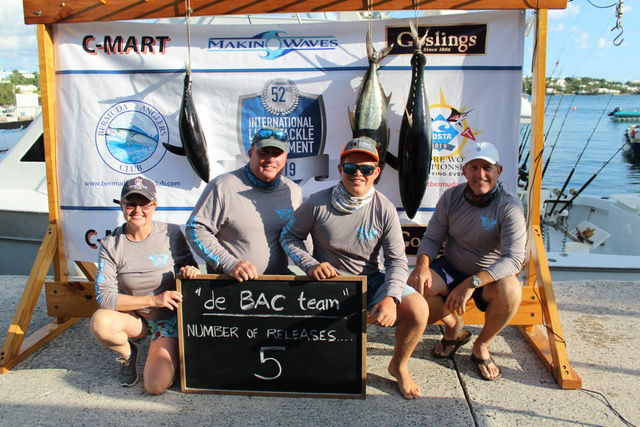 "Competing in the event for the first time, Nic Froud took out the High Point Junior Angler Award. Fiona Beck was the high point lady angler.
"Anglers also released 16 blackfin and yellowfin tuna during the event, earning release points for each fish that was released.
"The Bermuda Anglers Club wishes to thank C-Mart Limited, Makin Waves and Goslings Limited in helping make the 52nd ILTT a success."

Read More About
Category: All