The Registry General Department is advising the public that the .BM domain name registry website will be undergoing maintenance from Friday, July 1 to Sunday, July 10; there will be no new .BM registrations or updates to current registrations accepted during that time.
A Government spokesperson said, "This interruption is in preparation for the new registration site which will be live on Monday, 11 July 2016.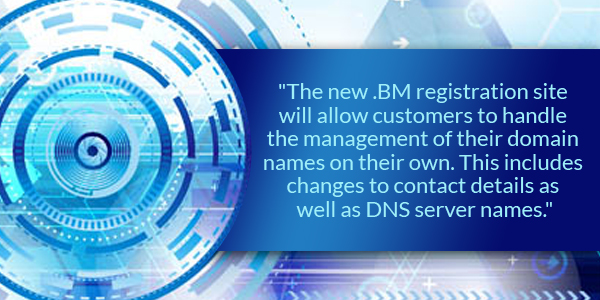 "The new .BM registration site will allow customers to handle the management of their domain names on their own. This includes changes to contact details as well as DNS server names. Customers will be required to login/signup in order to create their accounts, to manage their domain name[s].
"The site will also feature a customer support section, to answer questions and assist with account management.
"In addition, payments for .BM domain name registrations and renewals will no longer be accepted at the Registry General Office or via online banking. All payments will now need to be made by credit card through the registration site.
"Instructions for the new site will be provided to current customers, however, you can visit support.bermudanic.bm/home to get familiar with the features and processes of the new system.
"Any inquiries can be directed to dnsmanager@gov.bm."

Read More About
Category: All, Business, technology