With today [June 23] marking United Nations Public Service Day, BPSU President Jason Hayward has extended his thanks to "all public service employees for their hard work, dedication and service to the country."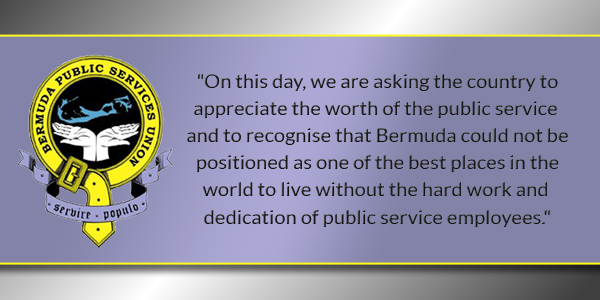 Mr Hayward said, "In its resolution 57/277, the United Nations General Assembly designated June 23 as United Nations Public Service Day and, as such, the Bermuda Public Services Union [BPSU] joins the rest of the world in celebration.
"The purpose of the UN Public Service Day is to:
celebrate the value and virtue of public service to the community;
highlight the contribution of public service in the development process;
recognize the work of public servants; and;
encourage young people to pursue careers in the public sector.
"The BPSU would like to thank all public service employees for their hard work, dedication and service to the country.
"We were pleased to see a recommendation coming out of the National Training Plan to prepare Bermudian university/college graduates for employment in this sector. This recommendation has our wholehearted support as there are many rewarding careers within the public service which add much value to our country.
"Despite the continuous attacks on Bermuda's Public Service, public servants have remained productive, committed to driving the country's economic development and providing value that enables citizens to receive the standard of living that they do in Bermuda.
"The BPSU will remain steadfast in encouraging our members to provide quality public services while at the same time continue to defend public service employees against unwarranted attacks.
"On this day, we are asking the country to appreciate the worth of the public service and to recognise that Bermuda could not be positioned as one of the best places in the world to live without the hard work and dedication of public service employees," concluded Mr Hayward.
Read More About