[Written by John Rousmaniere]
As the Newport Bermuda Race fleet rushed to the finish line on Monday in the wake of the first-to-finish boat, the powerful 100-foot grand prix Comanche, to the surprise of many they were led by an unusual boat and crew.High Noon, at 41 feet, is fully 59 feet shorter than Comanche and tens of feet shorter than many other entries.
Yet High Noon was the second boat to finish this Newport Bermuda Race. She also was the first finisher to have a traditional design, very unlike the one of the extreme stripped-out Comanche. And consider High Noon's unusual crew. Of the 10 sailors, seven are teenagers between ages 15 and 18, sailing alongside three adults.
High Noon, a Tripp 41 skippered by Peter Becker and crewed by 7 young sailors aged between 15 and 18. sneaks over the St David's Lighthouse finish line to take elapsed time honours within the traditional fleet.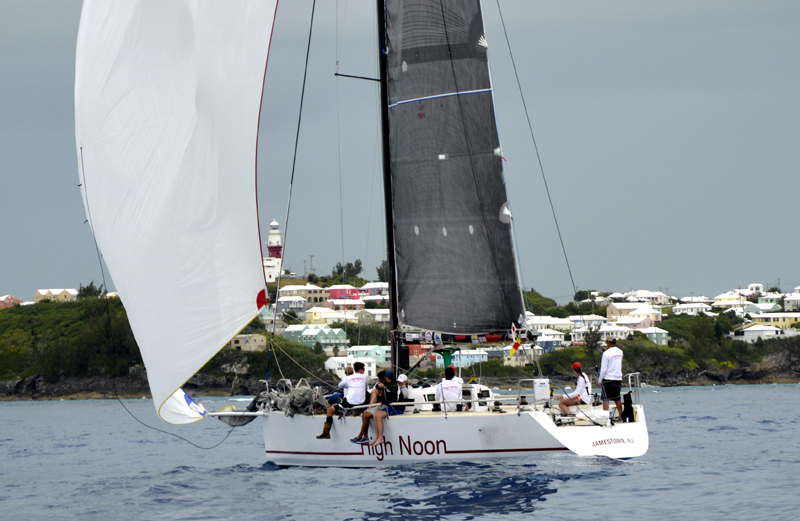 The story of High Noon 2016 is about new ideas in training young sailors. For decades they sailed only small boats. Enter Peter Becker, who sails out of American Yacht Cub, in Rye, New York. He was an eager 15-year-old when he sailed his first Newport Bermuda Race. "I was the kid on the boat, up on the bow changing sails," he recalls. Since then he's done 16 more Bermuda Races and a race from New York to Barcelona, Spain.
Four years ago his teenage children were getting interested in ocean racing, and he came up with a new approach: a unique training program at his club that came to be called the Young American Junior Big Boat Sailing Team.
High Five! … Young crew on High Noon, a Tripp 41 skippered by Peter Becker celebrating a remarkable line honors victory among the traditional yachts.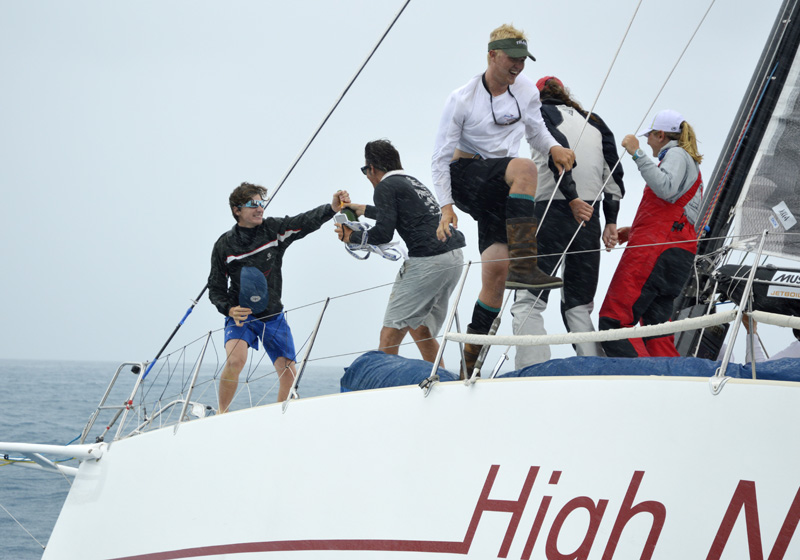 Every junior on the boat is there because they're competitive and they want to win the race." He put youngsters in a J/105 racing in local regattas under the tutelage of himself and other big-boat sailors. It worked so well that the US Merchant Marine Academy Sailing Foundation loaned High Noon to his program to sail in the 2016 Newport Bermuda Race.
"This Bermuda Race will be the culmination of at least three years of work by these juniors," he said last winter. "First they did overnight distance races, then weekend races, and then they looked for opportunities to sail offshore." The young sailors underwent hands-on safety training, and some helped deliver boats home after ocean races. They are committed to the project, and so are their mentors.
Royal Bermuda YC Commodore Leatrice Oatley hands over the victory champagne after HIGH NOON'S winning crew had crossed the finish line.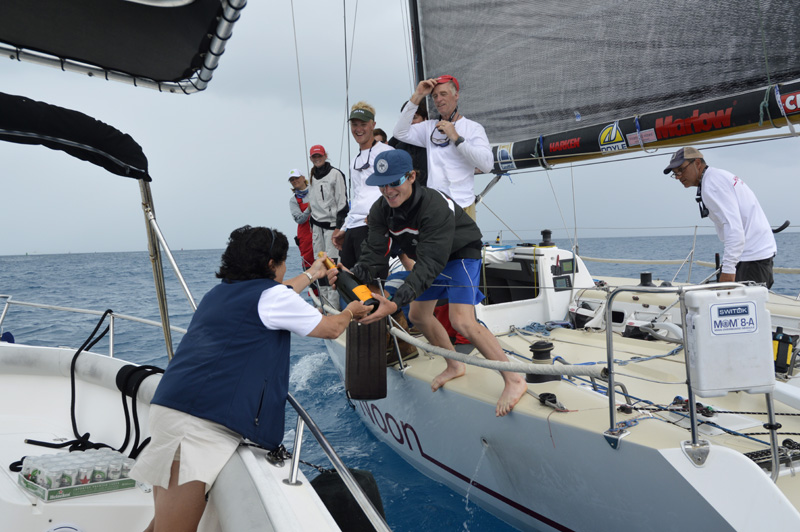 But it's not all about winning, said Becker. "The kids are resonating with this. They love big boats. It's challenging, it's social, and it's really inspiring. You get out there and you see the stars overhead and you think, 'the land is really far away.'"
High Noon's 2016 campaign was so ambitious that Becker and his colleague Rob Alexander, recruited a third adult to sail with them to assist with training, Guillermo Altadill, a Spanish sailor who has done ten 'round the world races. When he told the kids they had to change jibs three times in five minutes, they asked him why. Recalled Alexander, "He told them, 'Because we have to do it, that's why.'"
Standing from left to right next to Leatrice Oatley, Commodore of the Royal Bermuda YC who presented each of the HIGH NOON youngsters with a Stephens Brothers Society pin, are: Collin Axlander, Richard O'Leary, Hector McKemey, William McKeige, Madelyn Ploch, Carina Becker, & Brooks Daley.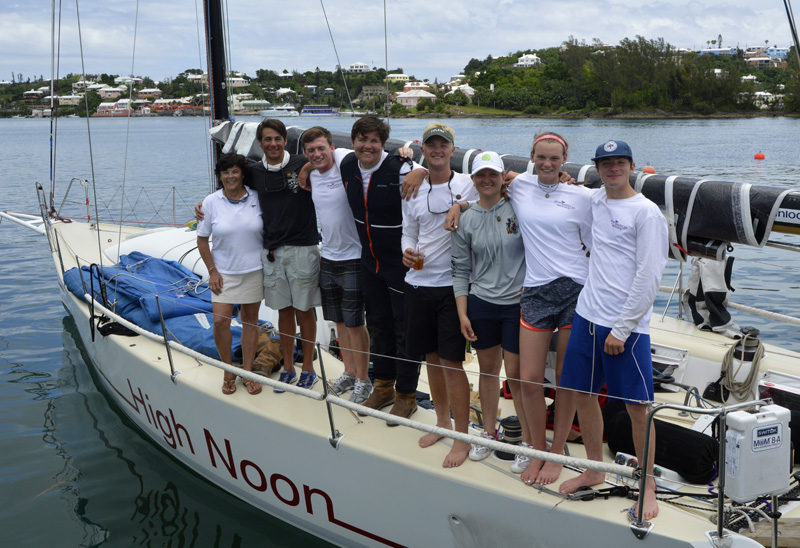 Two of those kids were the watch officer's children, Colin Alexander and Carina Becker. Split-second sail handling was crucial in the race's constantly fluctuating weather, with frequent changes of headsails and spinnakers. When it was light they went with the Code Zero when sailing close-hauled. When the wind came up, they favored a double-headsail rig for power reaching, sometimes tying in a reef.
They were prepared for heavy weather—each of the young sailors wore a scopolamine seasick patch—but got little of it in the race when, Becker said, the predicted storm "didn't have much in it." He credited their strategy of tacking downwind at aggressive angles for the big gains they made in this largely off-wind race, especially as they neared Bermuda.
Guillermo Altadill, the highly experienced Spanish veteran of 10 round the world races, five of them Whitbread/Volvo events, played a key part in coaching the 7 young sailors on HIGH NOON, Skipper Peter Becker said of Altadill, "He's been our Spanish hero!"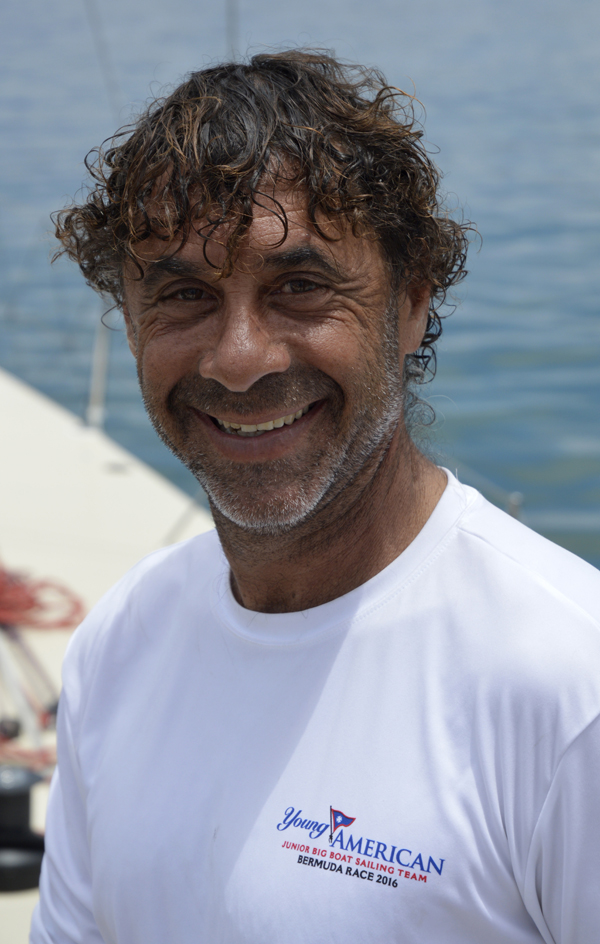 Preparing for anything, the crew organized in three watches: three or four sailors [young and older] standing watch, another group standing by on deck, and the third resting below. They practiced everything; when the rudder snagged some Gulf weed, the crew knew what to do, most of them heeling the boat to one side while a shipmate leaned over the windward side and poked the weed away with a batten.
Like any boat that's pushed hard in the ocean for several days, High Noon suffered some damage, but it was minor—a broken block here, some torn sails there—and with no injuries.
One goal was to do well, which they did in a way that became instantly famous. Another was to make the youngsters responsible leaders. "Our job," Becker said of himself and Rob Alexander, the two parents, "is to help with tactics navigation, and sail selection." He added, "I'm trying to give these kids the same passion and experience I was exposed to when I was young and sailing with older sailors."
The crew of the second finisher, the Xp44 Warrior Won, 2nd on elapsed time. From left to right: Roland Schulz, Ryan Zupon, HL Devore [Navigator], Andres de Lasa, Peter Carpenter, Chris Simon, Chris Sheehan [Skipper] Paul 'Whirly' van Dyke [Watch Capt] Jost Olan, Carter Hollida, & Doug Lynn [Watch Capt.]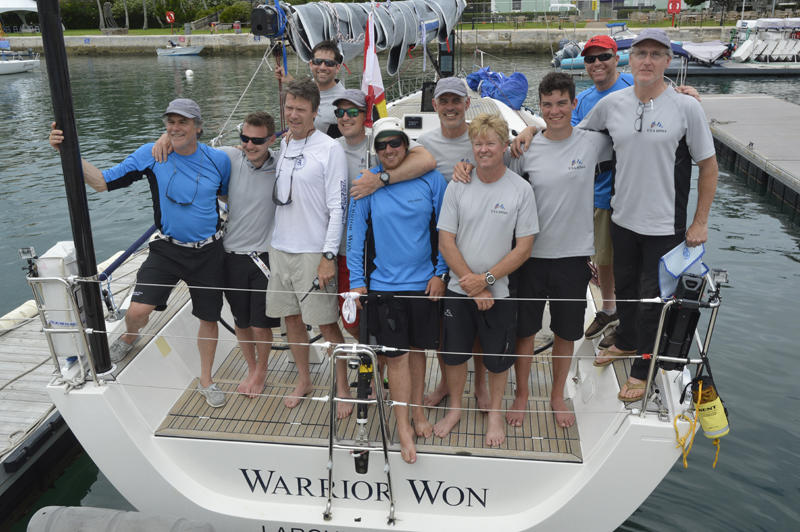 Note: A four-hour delay is imposed on reports to prevent competitors from taking advantage of learning about other boats' positions and performance.
Virtual spectators can watch the race unfold as their favorite yachts, skippers, or crewmembers in this 635-mile ocean classic tack and gybe their way through the Gulf Stream and hunt for the wind in the 'happy valley' north of Bermuda. All boats in the 2016 fleet will be tracked by YB satellite trackers as live as it can be on Pantaenius Race Tracking — www.pantaenius.com/NBRtracking — your link to all the action in the race.
- Photo courtesy of Barry Pickthall/PPL

Read More About