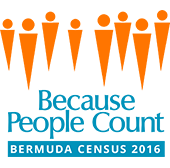 The Department of Statistics is reminding the public that the last day to conduct the Census online is 22 June, 2016.
A spokesperson said, "The public is advised that the web-based application is secure, convenient and easy to use.
"By getting counted online using a laptop, tablet or computer, census takers won't visit or telephone householders. People can log on using the information found in the letter sent by the Department of Statistics to all households.
"By law, every person must complete the Census so that the Department of Statistics can produce a demographic, social and economic profile of Bermuda."
"For those who do not have access to a computer, there are computers available to the public at the Department of Statistics, CedarPark Centre, 3rd Floor, 48 Cedar Avenue, Hamilton between 10 am and 4 pm for the purpose of completing the survey. Assistance will also be available.
"Online collection of data is the first of four phases that will gather information from Bermuda's residents. The other three phases are mail, telephone interviews or personal interviews."
Premier Michael Dunkley said today, "The primary and preferred method of collecting data is through the online survey. And since we launched in late May we are very pleased with the number of people who have completed the online survey so far.
"The deadline to complete the Census online is June 22 and we are hoping as many residents as possible go online in the next two weeks to complete the Census via this method as we believe that this is the quickest, easiest and most convenient way."
The 2016 Census of Population and Housing completion date is 31 October. For more information go to gov.bm. To begin your questionnaire, go to census.bm.
Read More About