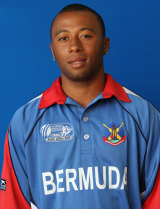 The St. David's County Cricket Club has tonight paid tribute to Fiqre Crockwell, saying "words cannot express their sorrow" over the loss of a "true St David's Warrior."
The Club said, "The entire membership of the St David's County Cricket Club are deeply saddened by the tragic loss of Fiqre Crockwell.
"Fiqre was a true St David's Warrior. To us, he was more than one of our most prominent cricketers, opening batsman and prolific wicketkeepers. He was family.
"Words cannot express our sorrow on the loss of the life of this young man and the impact it has on the St David's Community as a whole.
"On behalf the President, the Executive & Management Teams, the St David's County Cricket Club wishes to extend our most sincere and deepest condolences to the family of our beloved friend, our batsman, our safe hands, our brother!
"We will never forget him. We will always remember his wonderful Warrior Spirit. It will forever remain in our hearts. May God give him eternal rest!"
"His innings is over, his bat is laid down. Bowled out by death's unerring ball." – Unknown

Mr Crockwell, 30, was fatally shot early this morning on Woodlands Road. Anyone with any information about the murder of Mr Crockwell is asked to contact Acting Detective Inspector Kenten Trott at the Serious Crime Unit on 717-2345 or the confidential and anonymous Crime Stoppers hotline 800-8477.
Read More About