[Updated with video] With the winds being less than cooperative today [June 11] in Chicago, America's Cup officials took the 'substitute race', which was sailed on Friday, and scored it as Race One of the Louis Vuitton America's Cup World Series Chicago.
That victory went to SoftBank Team Japan who now have Friday's "substitute race" count on the leaderboard. In New York, the team won the substitute race, but it was never used.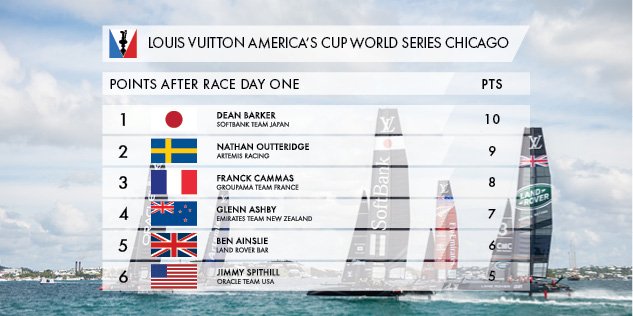 But in Chicago, with winds too light and unstable to start on time, the substitute race was inserted in the broadcast and scored as an official race. It was the first win of the Louis Vuitton America's Cup World Series for SoftBank Team Japan.
"It's a shame we couldn't get racing started on time today, but it's nice to turn the good work from Friday into a win on the scoreboard today," said skipper Dean Barker. "We've been working hard to improve our performance… Friday was a good day and we take a lot of confidence from that."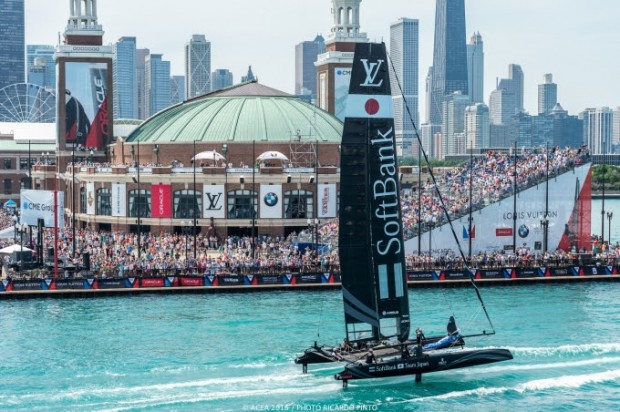 Artemis Racing scored second place and Groupama Team France was third. On the other side of the ledger was Oracle Team USA, who capsized in the substitute race on Friday and who now must carry that last place finish on the scoreboard.
As Saturday afternoon progressed under steamy, sunny conditions, and with the sea breeze taking its time to settle in but picking up, race officials and teams extended the race window beyond the initial 3:00pm deadline and were eventually able to get one late afternoon race completed for the fans on Navy Pier.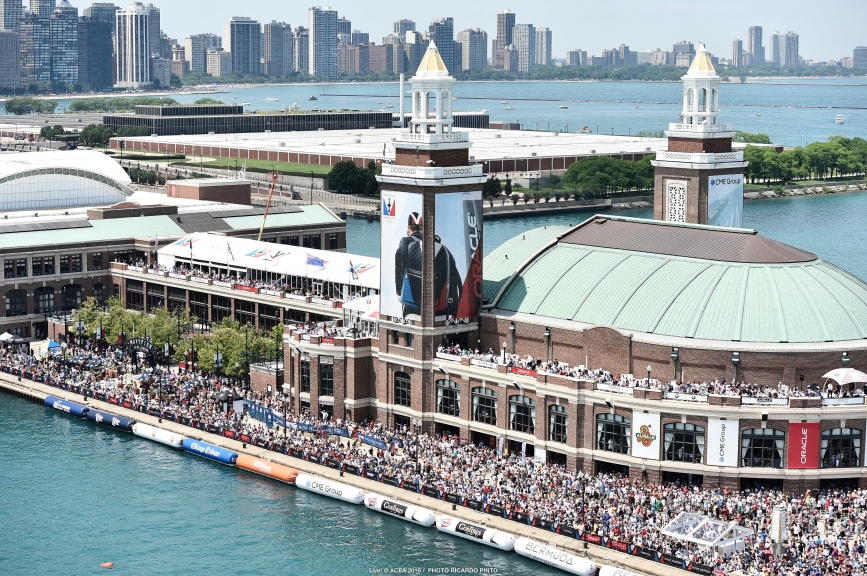 This race is designated as a 'substitute race' for Sunday. Should conditions not allow for racing to progress as scheduled on Sunday, it will be inserted in the international broadcast and scored as an official race.
Emirates Team New Zealand were the top team on Saturday, finishing ahead of Oracle Team USA and Artemis Racing.
The organisers said, "Conditions are predicted to be excellent tomorrow, setting up a fantastic finish for Super Sunday."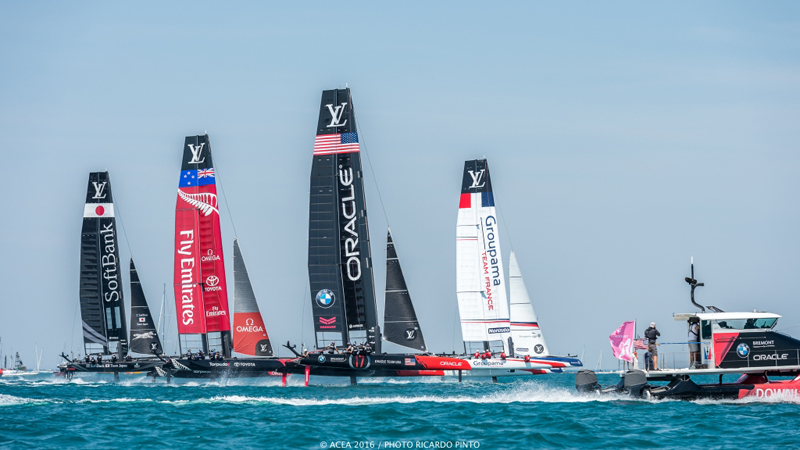 Race One [substitute race from Friday]
1.SoftBank Team Japan – 10 points
2. Artemis Racing – 9 points
3. Groupama Team France – 8 points
4. Emirates Team New Zealand – 7 points
5. Land Rover BAR – 6 points
6. Oracle Team USA – 5 points
Saturday Substitute Race finish order [this race will only be scored if used on Sunday]
Emirates Team New Zealand
Oracle Team USA
Artemis Racing
Land Rover BAR
SoftBank Team Japan
Groupama Team France

Read More About