Locals and visitors to Bermuda can now get up-close to SoftBank Team Japan's 45-foot foiling catamaran, right on Front Street in Hamilton.
The AC45 yacht, used as a test boat for the team to try new systems and dagger board designs in the lead up to the 35th America's Cup in Bermuda, now has its hulls on display in the Number One carpark on Hamilton's water front, amongst the action.
Dean Barker, Skipper and CEO of SoftBank Team Japan says the display is a great way to get the community involved and get a better understanding of the composition of these boats that literally fly on water using high tech foils.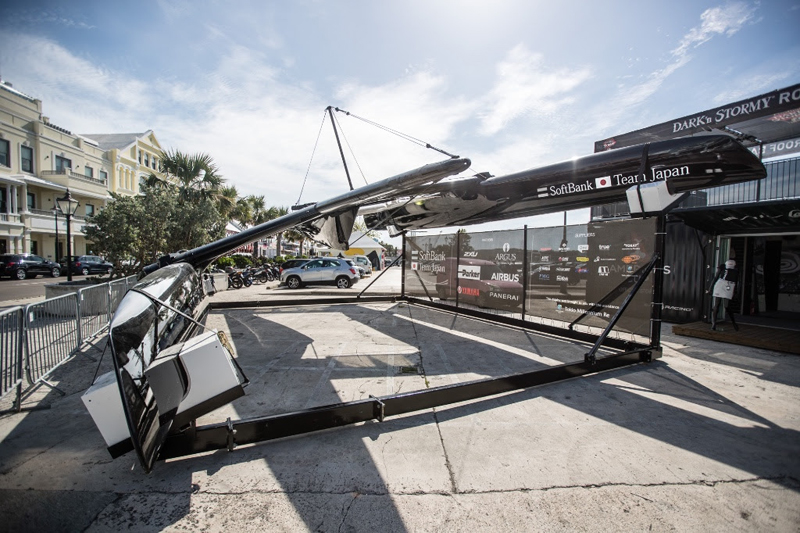 "We really appreciate the support of the City of Hamilton and Tokio Millennium Re in enabling us to share this with the local community and visitors to the Island," Barker said.
"Bermuda is in for an exciting couple of months with the America's Cup regatta getting underway later this month and any way we can get the community more involved and educated with these boats, the better they will appreciate the on-water racing.
"The AC45 on display is very similar to the America's Cup Class yacht we will race in the Louis Vuitton America's Cup Qualifiers starting on 26 May, which is approximately 5 feet longer."
SoftBank Team Japan was assisted by local Reinsurance company Tokio Millennium Re to bring the AC45 display to the Hamilton location.
Tsuyoshi Harigai, Head of Operations at Tokio Millennium Re says, "we are pleased to assist the Japanese Challenger, SoftBank Team Japan, as part of their support for the America's Cup in Bermuda and wish them all the best."

Read More About