The Department of Environment and Natural Resources is "urging the public to reduce human impact on sea turtles living in Bermuda's waters" saying that "turtles are still dying as a result of human activities."
"Sea turtles have been completely protected by legislation since 1972," a spokesperson said. "The legislation prohibits direct harvesting and intentional harm but turtles are still dying as a result of human activities.
The two most commonly encountered sea turtles in local waters are the green turtle and the hawksbill turtle.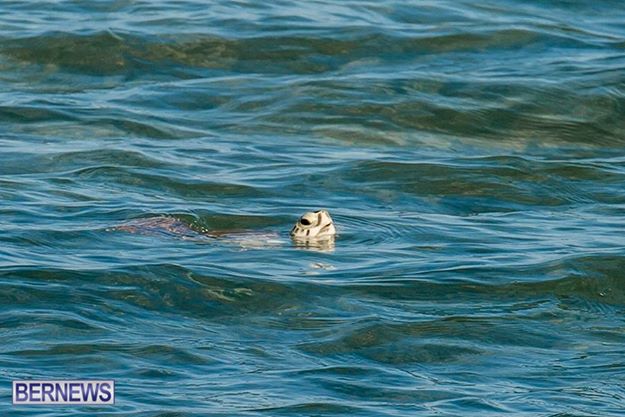 Minister of the Environment Cole Simons, said: "Sea turtles can get caught up in fishing line which very often leads to them drowning. They can also be hurt or killed if they get hit by motor boats or jet skis. However, the good news here is that these events are preventable if due care is taken by people out on the water."
Dr. Mark Outerbridge, Senior Biodiversity Officer said: "The Bermuda Turtle Project reported an increase in the number of green turtles sampled last year, with a record 289 turtles captured and released for research purposes during August 2015.
"This may reflect a growing number of turtles congregating in local waters. However, more sea turtles could lead to more turtle injuries.
"Members of the public can reduce the annual admission rate of injured turtles into the Bermuda Aquarium Museum and Zoo's Wildlife Rehabilitation Center as well as the number of turtle deaths by exercising extra caution when enjoying the marine environment."
The Department of Environment and Natural Resources requests the public's help in taking the following actions:
Boaters are asked to pay careful attention while in locations frequented by turtles – for example, over seagrass meadows
Boaters are requested to drive slowly when within 100m of the shoreline, or in areas where turtle warning signs are posted. Polarised sun glasses can help boaters see turtles resting at the surface.
Anglers are asked to discard unwanted fishing line in a receptacle onshore rather than throw it into the ocean, and to make an effort to recover any line that has become entangled in the marine environment.
Everyone is asked to avoid releasing helium balloons and to carefully dispose of plastic bags because, once in the ocean, both of these can be mistaken for food by turtles. When turtles eat these materials they can lead to serious health complications.
"Sea turtles are among the oldest creatures on earth and have remained essentially unchanged for 110 million years. As few as one out of 1,000 hatchlings are thought to survive to adulthood," the Department added.

Read More About
Category: All, Environment, News