The recently-founded charitable group Brothers of Bermuda is seeking the public's assistance with its "One Man, One Week or One Month" effort that aims to assist men on the island in finding employment.
A spokesperson said, "Brothers of Bermuda, a new organization that came into inception earlier this year, is made up of professional and laymen throughout Bermuda.
"The newly formed charity is attempting to provide support to men, young and old who, for whatever reason, have come on hard-times here in Bermuda.
"Since March, they have been silently providing food, clothing, and other basic needs. In addition, they are now hoping jobs will be on the horizon."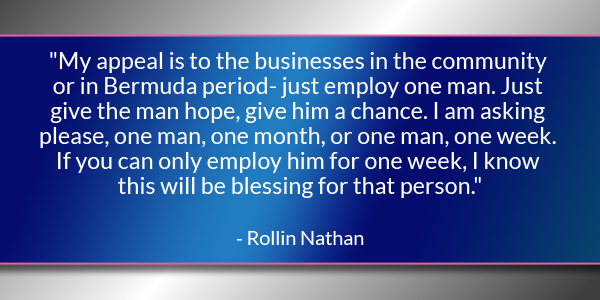 Brothers of Bermuda founder Rollin Nathan said, "I am recognizing men are committing crimes just to go into prison where they will have a clean bed, clean clothing, and food to eat.
"When our society reaches the point where prison is the brightest hope for a man, we have lost our society."
With this in mind, he has created the slogan "One Man, One Week or One Month," and is reinforcing his initiative by seeking assistance from the community at large.
Mr. Nathan said, "My appeal is to the businesses in the community or in Bermuda period- just employ one man. Just give the man hope, give him a chance.
"I am asking please, one man, one month, or one man, one week. If you can only employ him for one week, I know this will be blessing for that person."
For more information or to offer assistance to the effort, contact Rollin Nathan on 705-2985 or via email at rollin.nathan@gmail.com.
Men seeking employment should register at the office of the Bermuda Conference of Seventh Day Adventist, located on 41 King Street, from Monday to Thursday, 9.00am to 5.00pm, or Friday from 9.00am to 1.00pm.
Registration can be done at the Hamilton Seventh Day Adventist Church, adjacent to the conference offices, from Monday to Friday from 10.00am to 2.00pm.
Read More About