Xpressions Bermuda is is getting set to launch their first Summer Art Club, dubbed 'Art | Design | Mindfulness,' for the month of August for children ranging from pre-teens to teens at Chatmore Preparatory School, Windreach.
A spokesperson said, "Xpressions is happy to launch it's very first Art Club exclusively for pre-teens, tweens and teens. Providing a safe and creative environment using Art as a healing medium, enabling your children to express themselves without limits or fear, embracing the healing process in and of itself, while being mindful of the connection between mind, body and spirit.
"Owner and founder Tyasha Kandassamy is a mother of two and fully qualified lawyer. She studied Art in Barcelona Spain and wanted to share her Art Therapy experience with the island. Unfortunately, this wasn't recieved well and caused a great deal of discouragement.
"As a result, she studied Behavioral Science and later Law to ensure she was equipped with all of the skills and knowledge necessary to build the foundation for Xpressions without the need of external approval. She hopes to formulate curriculum and programs designed for schools, hospitals and the prison system to provide an alternative style of therapy and release for all."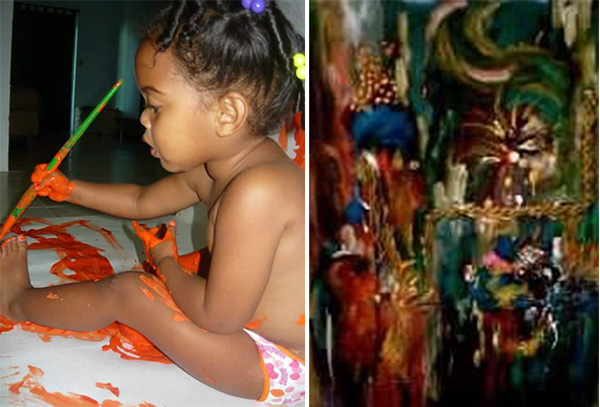 "Passionate about providing more, she is hopeful to return to Barcelona Spain next year to commence her Masters in Art Therapy, finances permitting.
"We hope that our philosophy and approach will transform the art stage, in all calibres and that our clubs, camps and workshops will provide parents and the community alike with a safe, new village by which we can nurture our children's free spirits.
"At Xpressions, we advocate for objective free expression in its entirety and promote work that reflects each individuals own perceptions and dreams, thoughts and spirit."
"Bermuda's latest platform dedicated to bettering our community and providing a platform by which any and everyone has a safe and creative environment to freely express themselves without limits or fears. Also providing a platform for young bermudian professionals to showcase their skill sets and share with the village we call home.
"A place where you are valued as an individual wholeheartedly, able to be yourself completely, express yourself however you like without others perceptions or opinions. A place to release and forget, find peace and move on with self."

"Looking for a safe and creative atmosphere to meet new friends and act your age? Hoping to have some level of autonomy over the summer? A place that is far from a camp but more of a guided hangout, full of daily workshops to teach you new art techniques with different mediums, challenge your design capabilities with real life design projects and community outreach agendas that will rattle the island fiercely?
"Are you too old for camp but too young to work or stay at home alone? Bored? Need a constructive alternative to TV watching or trouble?
"Our curriculum is based on the '4 Agreements,' which instill essential rules of living a life free of emotional upset and while teaching you how to take responsibility and control of self. We pride ourselves on being impeccable with our word, not taking things personally, not making assumptions, and always doing our personal best.
"We will be offering four weeks of full on age appropriate adventure with daily art, design and mindfulness workshops. Guest Artists, Coaches, Motivational Speakers, Tutors. Real life design and community projects with real clients. Life skills tutorial. CV, scholarship and college application process tutorials and so much more.
"Have a go on our 'Emotional Wall,' a unique place for anyone to go when feeling unsettled, emotionally upset or simply not themselves. it's a safe place for everyone to release their emotions however they wish to without offending any of their peers."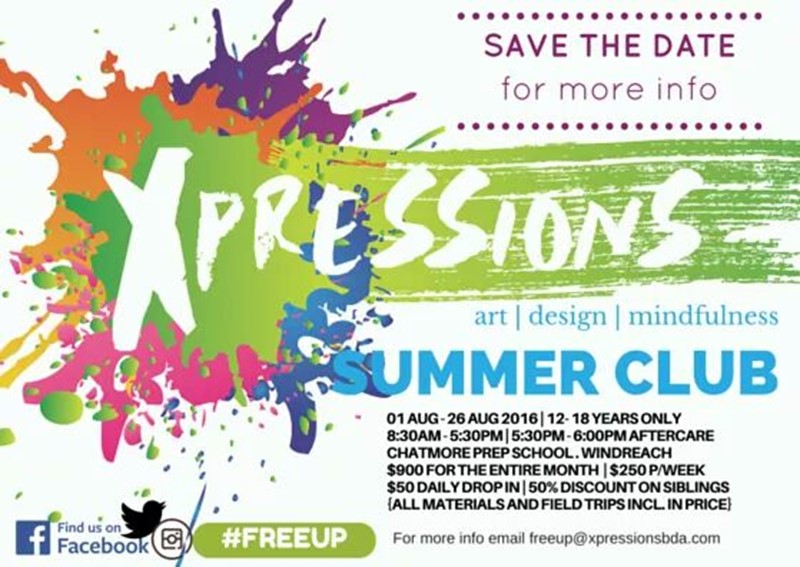 "A wall that ultimately represents every emotion felt by every student to walk through our door. A wall that enables them to ground themselves, to speak to and to be themselves freely. A reflective yet collaborate piece that shares a piece of each of our souls.
"During the month of August we will also be offering healing workshops for all ages, including sensory workshops for young explorers between the ages of 1 to 4 years.
"Come and freely express yourself and experience self healing through the Art Process, Art and multiple mediums. Our healing workshops include all materials and are the perfect way to end a busy week of work and prepare yourself for a new one. Unwind to the calming or chaotic sounds of music [depending], ground yourself with art and feel better after releasing.
"We are happy to arrange private classes, workshops, events, seminars, coaching, team building exercises. Simply reach out and we will make it happen if we can. We hope to be able to source a host location whereby we can offer our services year round, including weekly classes and workshops for all ages, adults included.
Ultimately, we would love to run an alternative therapy center, providing a source of every and any alternative therapy for those interested in healing alternatively. We are happy to receive donations both monetary and supplies."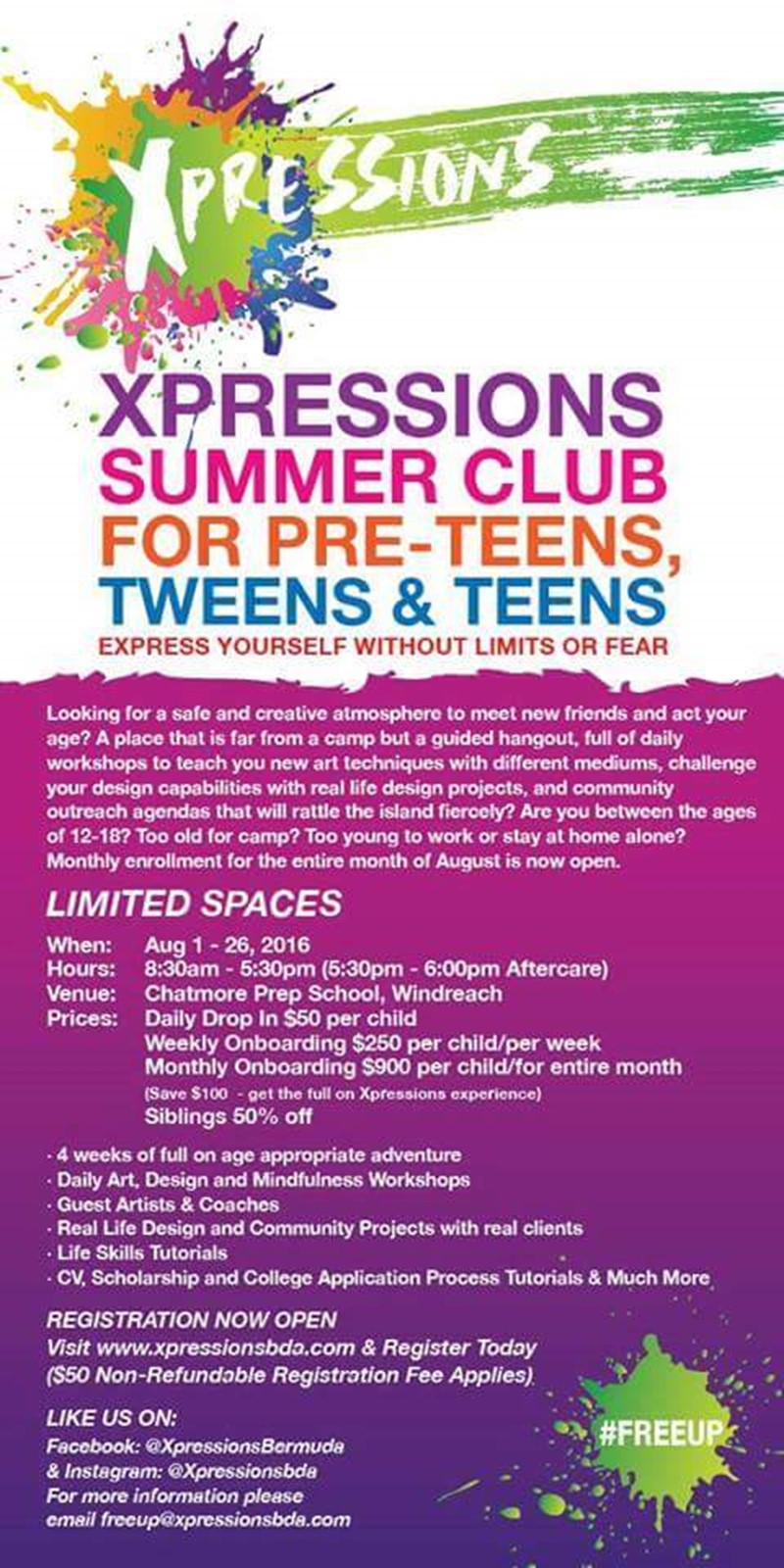 "We are willing to work out payment plans for those parents struggling financially with the understanding that they save their spot by paying the $50 registration fee, and terms of a payment plan are agreed between the parties."
The camp will run from August 1 through August 26 from 8.30am to 5.00pm each day, with aftercare available from 5.30pm to 6.00pm, at Chatmore Preparatory School, Windreach, for children aged 12 to 18.
The cost is $50 for daily drop-in, $250 per week, or $900 for the full month, with a mandatory $50 registration fee [fee waived for anyone who registers for one week or more before July 8].
For more information or to register, visit the website or call 537-1308.

Read More About
Category: All, Entertainment