The Bermuda Squash Racquets Association [BRSA] is getting set to host Bermuda vs Jamaica, with "epic Caribbean Championships battles" to take place throughout four matches on Thursday, September 1 and Friday, September 2.
A spokesperson said, "Representing Bermuda are Micah Franklin, Bermuda's #1 and #155 in the world and Noah Browne, Bermuda's #2 and #287 in the world. Representing Jamaica are Christopher Binnie, Jamaica's #1 and #77 in the world and Lewis Walters, Jamaica's #2 and #91 in the world."
The schedule will see two matches on September 1, with Browne v Binnie at 7.00pm and Franklin v Lewis at 8.00pm, and two matches on September 2, with Browne v Lewis at 7.00pm and Franklin v Binnie at 8.00pm.
Tickets, which include all four matches, cost $50 for general seating and $150 for VIP seating, which includes personalized seating, a limited complimentary bar and food, and VIP/player area entry.
Tickets are available through the BRSA by calling 292-6881 or emailing patrickf@bermudasquash.com.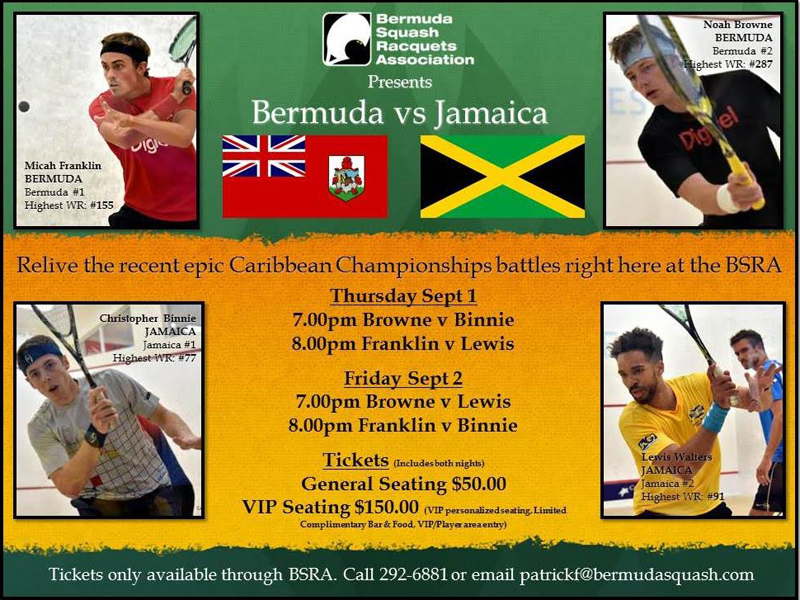 Read More About