The Bermuda Bicycle Association's longest road race of the year, the 65 mile Presidents Cup, was today [August 28] won for the third time by Dominique Mayho in yet another dominating performance.
"Mayho, who has just returned to the island following the second part of his four months in Belgium racing for Jonge Rikkers Vollezelle, dictated the race then entire way, first by drawing out three others into a lead breakaway and then by driving each of his companions to their limit", the BBA said.
"With Mayho coming out of Dockyard as they headed to the finish line in Paget were Matthew Oliveira, Kaden Hopkins and David McComas.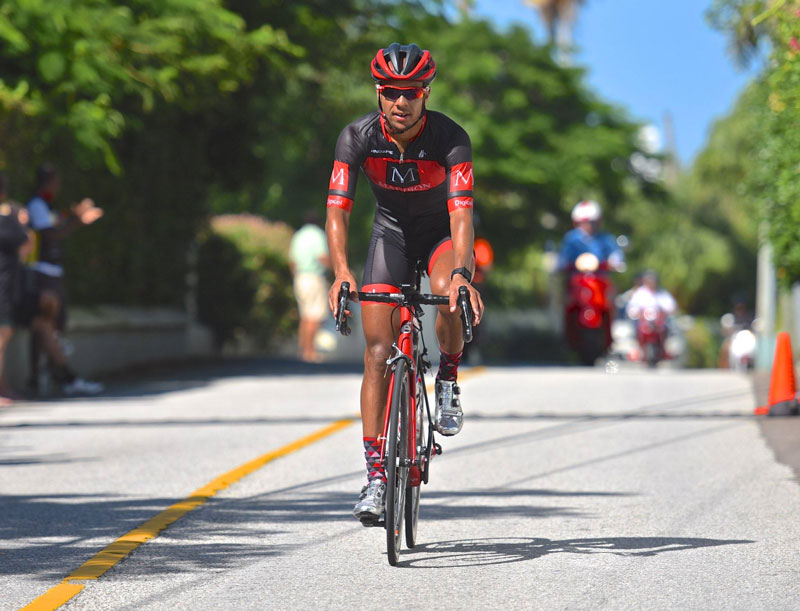 "As they hit Scaur Hill Mayho's pace first popped McComas and then Hopkins leaving Oliveira safely on the leaders wheel. But misfortune strict for 16 year-old Oliveira as he suffered a puncture by White Hill and was not able to rejoin the race. This left Hopkins to chase solo with McComas behind. At the finish it was Mayho by a minute and a half over Hopkins with McComas a further two minutes back.
"While all of the 54 starters raced the same 65 mile course there were division prizes for Women and Junior competitors. Teenager Alyssa Rowse topped the women finishing 11th overall and about 5 seconds ahead of Karen Smith. Hopkins took the Junior title and Conor White rolled in with a group for 16th overall and second Junior."
Full results follow below [PDF here]:

Read More About