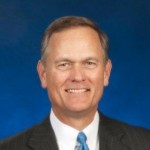 The Bank of N.T. Butterfield & Son announced that David Zwiener [pictured] has today been appointed to its Board as a Non-Executive Director.
Mr. Zwiener, who is a Senior Operating Executive with the Carlyle Group's Financial Institutions Group, will serve as one of Carlyle's two representatives on Butterfield's Board.
Mr. Zwiener has previously served on the Boards of public and private companies including PartnerRe Ltd., VOYA Financial, Inc., CNO Financial, Inc., The Hartford Financial Services Group, Inc, Hartford Life, Inc. and Sheridan Healthcare, Inc.
He has also served as a Director or Trustee on several Boards of non-profit organisations, including Hartford Hospital, the New Britain Museum of American Art, Nasher Art Museum, Wadsworth-Atheneum Museum, and the Connecticut Business & Industry Association.
Mr. Zwiener, who resides in West Hartford, Connecticut, holds a Bachelor of Arts from Duke University and an MBA from Northwestern University.
Read More About