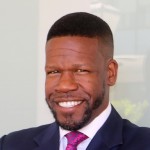 The Bank of Butterfield today announced that Craig Bridgewater will join the Bank as Group Head of Finance on October 7th, 2019. He will report to Michael Schrum, Group Chief Financial Officer.
"Mr. Bridgewater was most recently a Managing Director at KPMG in Bermuda where he led the firm's banking and asset management practice," a spokesperson said.
"He has published several articles and thought leadership pieces related to the banking and asset management industries, and was responsible for creating KPMG Bermuda's banking publication, Insights, which focused on the banking industry in Bermuda. He was also KPMG in Bermuda's Head of People with responsibility for Human Resources, Learning & Development, Diversity & Inclusion, Performance Management and Graduate programmes.
"Prior to joining KPMG, Mr. Bridgewater was financial controller for Orbis Investment Management Limited and an Assistant Manager at Price Waterhouse in Bermuda where he qualified as a Chartered Accountant in 1995.
"Mr. Bridgewater currently sits on boards and committees of numerous community organisations. He is the Chairman of the Governing Body of the Berkeley Institute, Chairman of the Alternative Investment Management Association network in Bermuda, and a member of the Board of Education, the Albert College Board of Governors, including being Chair of its Finance Committee, the Asset Management Working Group of the Bermuda Business Development Agency, and the Frederick Sydney Smith Scholarship Committee, which issues scholarships for the benefit of Bermuda students attending Albert College."
Mr. Schrum welcomed Mr. Bridgewater to Butterfield, saying "Craig is a well-known and highly respected finance professional in Bermuda's banking community, and I am pleased that he is joining the Butterfield senior leadership team.
"He has a wealth of technical banking and accounting experience, as well as a well-earned reputation for leadership, and I know he will make a significant contribution to Butterfield's continued success."
Read More About