EY announced that Demi Wright been selected as the winner of the 2016 EY R. Gil Tucker Bermuda Scholarship, following a highly competitive application and review process.
Ms Wright is a graduate of Saltus Grammar School, and is currently a junior at York University in Toronto, where she is pursuing a degree in Business Administration with a focus on Accounting.
The scholarship is valued up to $30,000 a year for a maximum of five years until the recipient has completed the minimum educational requirements to qualify as a CPA, and is named in honour of former EY Bermuda Chairman Gil Tucker.
The goal is to provide academically talented individuals the opportunity to achieve their education goals and ultimately build careers in the professional services industry.
EY partner Craig Redcliffe, Demi Wright and Jill Kearns of EY's talent team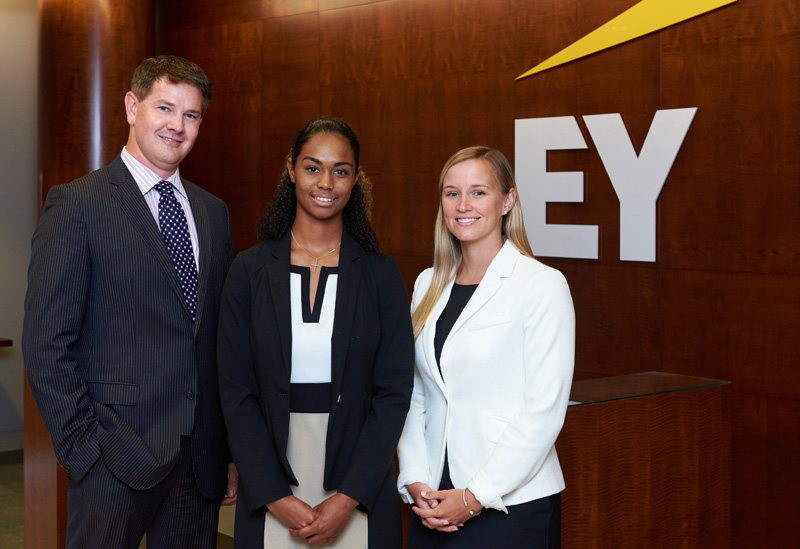 Craig Redcliffe, EY Bermuda Partner, said, "The EY Bermuda Scholarship recognizes not only high academic achievement, but also a high degree of community engagement.
"Demi has demonstrated both a keen interest in accounting and a commitment to building a better working world. We are proud to honor her as this year's recipient."
The EY scholarship program focuses on those studying accounting or another appropriate field who have demonstrated sustained academic excellence.
It includes an eight- to ten-week summer internship to gain practical accounting experience, as well an offer of full-time employment at EY upon completion of studies.

Read More About