Philip Hagen and Joshua Reid have been selected as the recipients of the 2019 EY Gil Tucker Bermuda Scholarship. Both Mr Hagen and Mr Reid are interning with EY's Assurance teams this summer.
The EY scholarship is valued at up to $30,000 USD per year for a maximum of five years until the recipient has completed the minimum educational requirement to qualify as a certified public accountant. It provides students who have shown academic excellence the opportunity to gain higher education and build careers in the professional services industry.
Photo left to right: Joshua Reid, Craig Redcliffe, Gil Tucker, Philip Hagen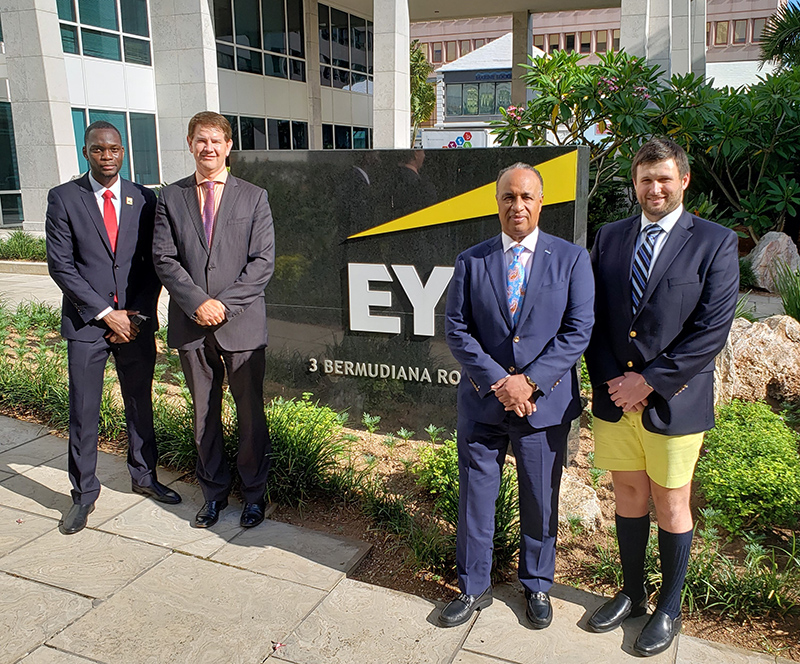 The scholarship includes an eight- to ten-week summer internship to gain practical experience and an offer of full-time employment at EY upon successful completion of the university program.
When advised of the award Mr. Hagen noted, "I feel honoured to have been selected as one of the recipients for this year's EY Gil Tucker Scholarship. I am excited to return to university to pursue my master's degree before returning to Bermuda to start working for EY and to start giving back to the community."
Mr. Hagen, a graduate of Saltus Grammar School, recently graduated from Queens University of Charlotte with a Bachelor of Business Administration in Accounting degree. He will return to Queens University of Charlotte in the fall to work towards obtaining his Master's in Business Administration.
Mr. Reid added, "I am delighted, honored and am extremely grateful to EY for this investment as I pursue my Bachelor's/MBA degree and CPA designation. I look forward to starting my future career with EY as they are heavily committed to developing diverse talent and building a better working world. It is my hope to encourage more young Bermudians to pursue a career within international business and to make a positive impact within our local community."
Mr. Reid, a graduate of the Berkeley Institute, recently graduated from the Borough of Manhattan Community College with an Associate in Applied Science, Accounting degree. He will head to Pace University in the fall to work towards obtaining his combined BBA/MBA in Public Accounting.
Craig Redcliffe, EY Bermuda Partner, said, "It is an honour to award this year's Gil Tucker Bermuda Scholarship to two outstanding gentlemen, Philip Hagen and Joshua Reid. Philip can be described as a stellar all-around student and athlete who has demonstrated his commitment, strong work ethic and academic abilities inside and outside the classroom.
"We are looking forward to supporting and working alongside Philip on his career journey. Joshua's list of accomplishments along with his academic performance is impressive. The dedication to his academic and professional development is remarkable. We look forward to seeing Joshua continue to flourish during his time with the firm. Both have a great future ahead."

Read More About