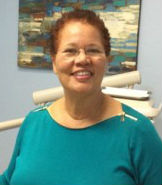 Fresh Breath Dental is welcoming pediatric dentist Dr. Celia Musson-Nzabalinda [pictured] to its practice.
A spokesperson said, "Dr. Celia Musson-Nzabalinda is a specialist in Pediatric Dentistry. She has 36 years of experience in the dental field, having earned her Doctor of Dental Surgery degree from Meharry Medical College in Nashville, Tennessee.
"She completed a general practice residency at Martin Luther King Jr. Memorial Hospital in Los Angeles, California, then returned to Bermuda and provided patient care at the Department of Health for 5 years.
"Dr. Nzabalinda returned to the United States to complete a specialty in Pediatric Dentistry at the Montefiore Medical Center of Yeshiva University, followed by a fellowship in Dentistry for the Developmentally Disabled at the Rose F. Kennedy Center of Albert Einstein College of Medicine.
"She went on to teach Pediatric Dentistry and treat patients at Columbia University for 4 years before returning to Bermuda to serve as the Senior Dental Officer for the Department of Health.
"Dr. Nzabalinda has spent most of her career providing public health leadership and direct patient care because she loves changing lives for the better. Her philosophy is to dramatically increase the health knowledge of every family she meets.
"Her skills include comprehensive dental services, growth and development, interceptive orthodontics, and preventive care. She has hospital privileges and provides care to patients of all health care risk levels."

Read More About