The Bermuda Tourism Authority [BTA] is financially supporting four new live performance experiences this summer thanks to an investment programme specifically for the local entertainment industry, and the performances are underway at various locations around the island.
"We received 18 applications back in May which is a testament to the volume of great talent we have in Bermuda that want to be a part of the visitor experience," said BTA's Chief Product & Experiences Development Officer Pat Phillip-Fairn.
"It was a difficult decision determining which of the submitted ideas to financially support; our objective was to prioritise the ones that best matched with what visitors tell us they're looking for."
BTA market research indicates visitors are interested in:
Pop-up entertainment outdoors and in re-purposed venues
Intimate performances in smaller venues
Entertainment that reflects the Bermuda cultural experience
The Simons Brothers make their debut performance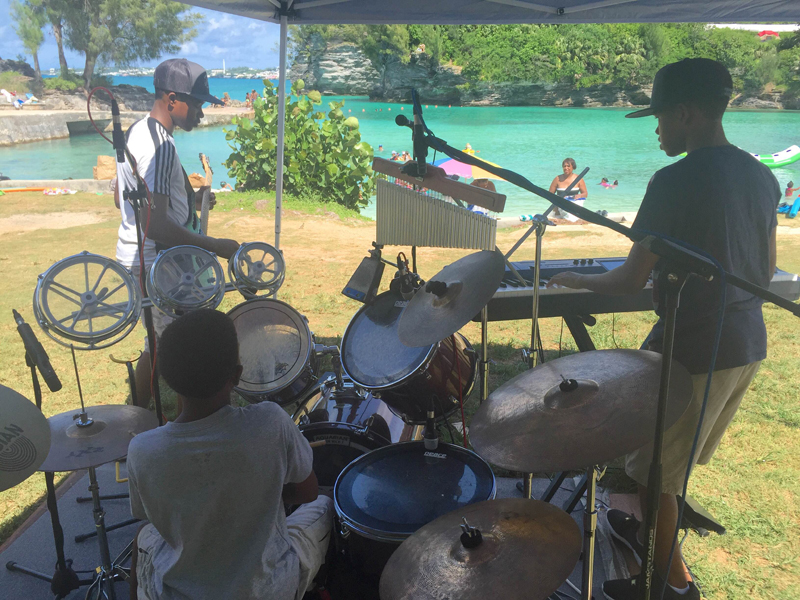 "The successful applicants were The Simons Brothers as well as three concession operators at the following local beaches: Horseshoe Bay, Tobacco Bay and Admiralty Cove. The total amount awarded between all successful applicants was $52,500," the BTA said.
"The Simons Brothers – made up of Jonathan, 16, Solomon, 14, and Leonardo, 10 – began playing at Admiralty Cove last month, the site of a new all-inclusive adventure park which offers kayaking, zayaking, snorkeling, floats and games.
"The trio will also perform live at Horseshoe Bay and for cruise visitors at Heritage Wharf in Dockyard on Mondays, Wednesdays and occasionally on Saturdays.
"Meantime the BTA-supported beach performances show off a diverse array of Bermuda's local entertainment available by day and night."
Horseshoe Bay
Live Steel Pan Performance [Paul Smith]
Mondays, Tuesdays & Thursdays 12:00 noon – 3:00 pm
Toni B
Wednesdays 2:00 pm – 5:00 pm
The Simons Brothers
Thursdays 7:00 pm – 9:00 pm
Working Title
Fridays 9:00 pm – 12:00 am
Conscious Bermuda
Saturdays 9:00 pm – 12:00 am
Jonathan Simons, 16, plays the guitar: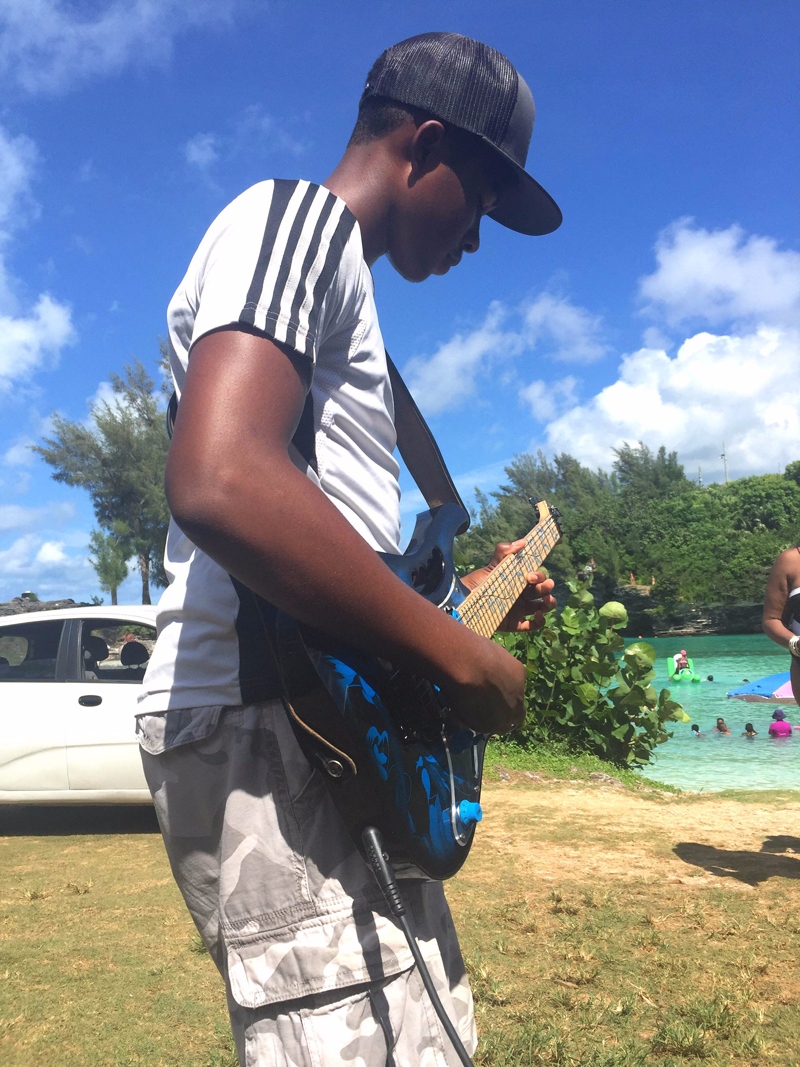 Tobacco Bay
The Idren Reggae Band
Thursdays 12:00 pm – 3:00 pm | 7:00 pm – 8:30 pm
Happy Hour Bonfire with local Guests Acoustics
Fridays 7:00 pm -8:30 pm
Live Art Saturdays [featuring live Capoeira performances]
Saturday 1:00 pm – 2:00 pm
The Idren Reggae Band
Saturday 7:00 pm – 8:30 pm
Mrs Phillip-Fairn said: "Supporting beach concessionaires in the way we have allows us to inspire the hiring of many local performers who can bring varied artistic experiences to these venues.
"Also the BTA has been working hard to make the visitors' beach experience more enjoyable and we know from our beach research that adding local, live, cultural performances– at day and at night – is exactly what visitors are looking for."
"The concept of pop-up entertainment was a dominant feature among successful applicants. Consumer feedback will be measured to determine whether the concept can also work more robustly at public beaches and at other appropriate outdoor settings," the BTA said.
"The BTA formed an Entertainment Working Group in 2015, comprised mainly of local entertainers, to provide input on the best ways to develop new entertainment offerings in Bermuda. This new investment programme is one of the strategies to emerge from the BTA's stakeholder engagement with entertainers."

Read More About
Category: All, Entertainment, Music, News