Olympic fans who download the Bermuda Broadcasting Company's mobile app can now win the latest iPhone and Samsung Android phones.
The BBC said, "Anyone who downloads our free iOS or Android app and watches just one hour of Olympic coverage before the closing ceremonies on August 21st will be automatically entered to win new phones.
"In addition, Version 1.2 of the Bermuda Rio 2016 app is now out for iOS and Android.
"The BBC's app has revolutionized Olympics sports watching in Bermuda, enabling fans to view any of the 13 channels on their phones or tablets, whilst ESPN is being broadcast on ZFB Channel 7."
Screenshot showing two of the app screens: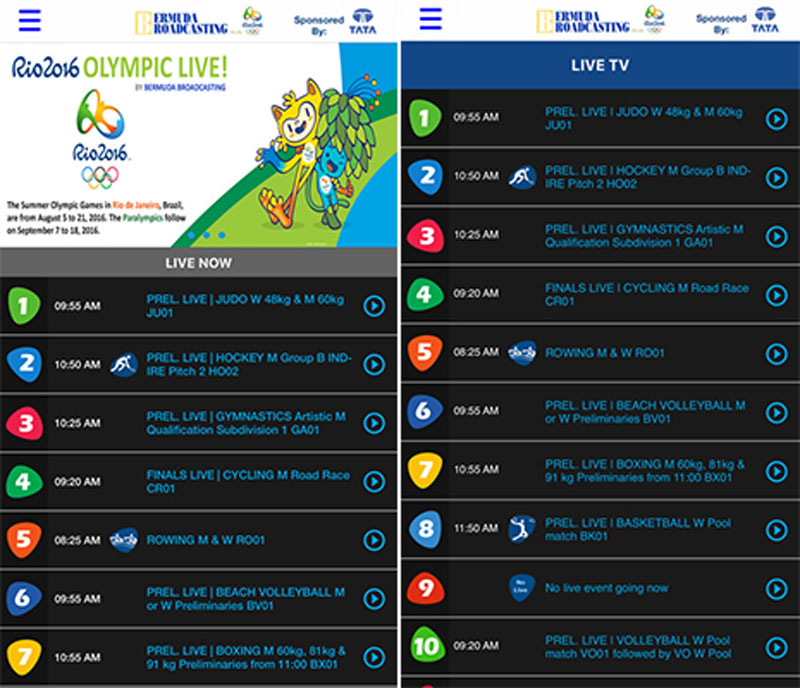 "Version 1.2 of the app has a number of enhancements that enables users to watch the action in landscape mode as well as in portrait, in addition to other improvements. And the quality of the High Definition video streams are impeccable when connected to a fast Internet connection.
"People who download the app and watch at least one hour of the broadcast will automatically be entered into the draw for new iPhone and Samsung Android phones.
You can download the app for free on the Apple Store and Google Store.

Read More About
Category: All, technology