[Written by Don Burgess]
Cameron Pimentel was 39th and 34th in the seventh and eighth in the men's laser sailing regatta at the Rio Olympics.
Phillip Buhl of Germany won the seventh race while Francesco Marrai of Italy crossed the line first in the eighth race. Tonci Stipanovic of Croatia is the overall leader with Brazil's Robert Scheidt second and Aussie Tom Burton third. Pimentel is 41st in the 47-boat fleet.
Pimentel's final two races will be Saturday at 1:05pm and 2:30pm.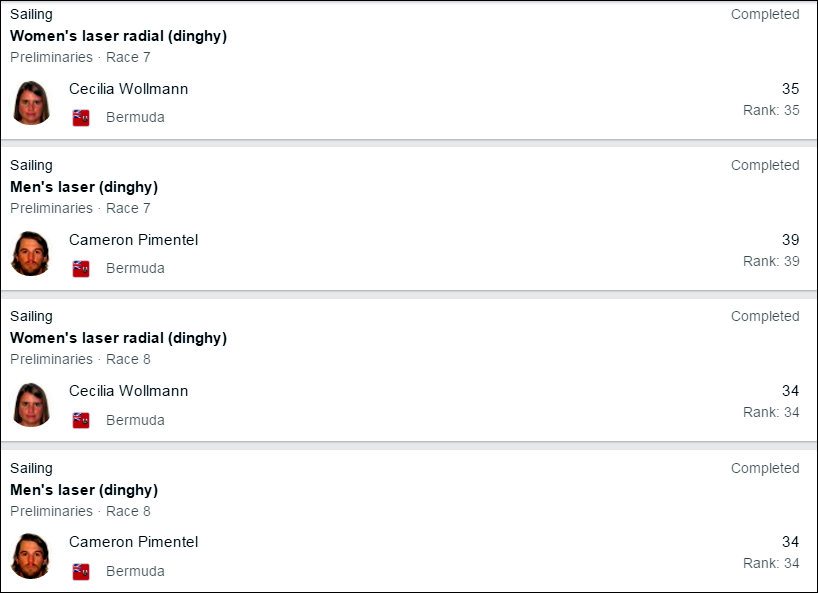 Ceci Wollmann was 35th in the seventh race of the women's laser radial competition at the Rio Olympics. Lucia Falasca of Argentina won that race.
Ceci improved one spot for the eighth race of the regatta by finishing 34th. Japan's Manami Doi finished first. Overall Wollmann is 34th.
Overall Denmark's Anne-Marie Rindom leads the fleet followed by Marit Bouwmeester of The Netherlands and Annalise Murphy of Ireland.
The final two races for Wollmann will be Saturday at 1:15pm and 2:40pm.

Read More About