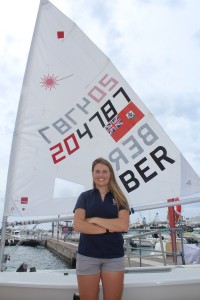 [Written by Don Burgess]
Ceci Wollmann's "crazy journey" at the Olympics has been bolstered by the support of her family.
Wollmann, who is making her Olympic debut at just 18, had a 33rd and 35th yesterday and now stands 34th overall in the laser radial fleet.
She told Bernews: "My family are very proud of me and I am very thrilled at all the support from everyone back home."
Wollmann is getting front row encouragement from her mom Lesley, dad Paul and siblings Ellie and Mikey.
Ceci said: "It's good to have them here supporting me as they have gone through this crazy journey with me.
"It's always nice coming home to the family at the end of the day and having dinner with them — Right now, while the sailing is on, I am staying in an apartment with them closer to the venue."
Ceci said the laser radial fleet was on a different course yesterday "which made it slightly windier as we were further out by the bridge.
"It was another difficult day with the competition being so good. I seemed to have better first upwinds and then losing some boats so hopefully moving forwards I can improve on this."
Wollmann and fellow sailor Cameron Pimentel are in the water again on Wednesday for races five and six. Wollmann's races are scheduled for 1:15pm and 2:40pm while Pimentel's are set for 1:05pm and 2:30pm.

Read More About